'New Mutants': Maisie Williams And Anya Taylor-Joy Rumored For X-Men Spinoff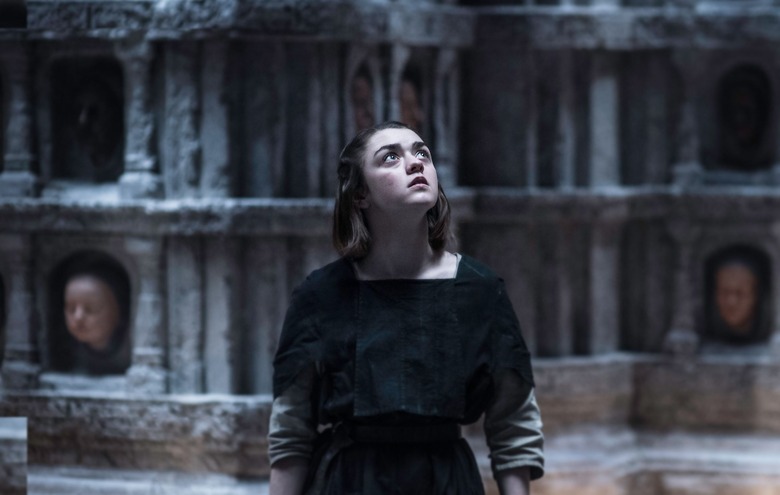 UPDATE: Nerdist has gotten in touch with a rep at 20th Century Fox who says the New Mutants casting rumor is not true. Original story follows.
20th Century Fox's New Mutants may have just picked up some new mutants. According to a new report, Game of Thrones' Maisie Williams and The Witch's Anya Taylor-Joy have been cast as Wolfsbane and Magik, respectively, in the X-Men spinoff, where they'll join Alexandra Shipp as Storm and James McAvoy as Professor X. Josh Boone (The Fault in Our Stars) is directing the superhero flick, which follows a group of young mutants who study and train at the Xavier School for Gifted Youngsters. 
HitFix has the word on the New Mutants casting. Although they're generally reliable, we'd caution you to take the news with a dash of salt as 20th Century Fox hasn't officially confirmed any of this casting yet. In addition to Wolfsbane and Magik, their sources say, New Mutants is also looking to cast Samuel Guthrie a.k.a. Cannonball, Roberto da Costa a.k.a. Sunspot, and Dani Moonstar a.k.a. Mirage. While the New Mutants roster has changed over the years, the movie lineup sounds pretty close to the original roster from the 1980s comics.
Wolfsbane (Williams) is Rahne Sinclair, a Scottish girl who has the ability to transform into a wolf-like creature (so, not unlike a werewolf, only she can transform at will and doesn't have to dread the full moon). Magik (Taylor-Joy) is Illyana Rasputin, who in the comics is the younger sister of Piotr (a.k.a. Colossus). She is a sorceress with the ability to teleport through time and space.
Storm (Shipp), who will make her big-screen debut in this summer's X-Men: Apocalypse, is not traditionally part of the New Mutants in the comics. Her presence here is especially noteworthy since it suggests New Mutants will take place in the 1980s. Unless, of course, there's some kind of time-travel element involved, which is always possible when you're dealing with these wily mutants. Professor X's involvement is less surprising since he runs the Xavier School for Gifted Youngsters.
We should also point out that a New Mutants uniform was first seen onscreen in Deadpool, worn by Negasonic Teenage Warhead (Brianna Hildebrand). However, Deadpool took place in the present day, so if the New Mutants movie is indeed stuck in the '80s, it seems unlikely she'll drop by. Finally, it's worth noting Sunspot (who's still being cast for New Mutants) was previously played by Adan Canto in X-Men: Days of Future Past — but the finale of that film wiped the slate clean, so New Mutants isn't necessarily obligated to take that into consideration.
Boone is co-writing New Mutants with Knate Gwaltney. While plot details are still under wraps, producer Simon Kinberg recently dropped hints to IGN about the overall tone of the movie:
Josh Boone and his writing partner are working on the script. They're doing a really nice job of it, and it's a really cool one, because in many ways, like Deadpool was so different from the mainline X-Men movies, New Mutants... It's maybe not as different as Deadpool, but it has its own unique, original voice to it.
That's the fun for me, working in the X-Men universe, creating these sort of standalone movies that have a different vibe to them. And New Mutants has more of a YA [Young Adult] vibe to it.
While it's early days yet, so far New Mutants sounds very promising. The characters, while not quite as famous as Wolverine, Magneto, and their ilk, are popular among fans of X-Men comics. And New Mutants sounds like a fantastic way to expand the X-Men franchise without simply retreading old territory — the "YA vibe" sounds different from anything we've seen from this series before, and Boone, as the director of The Fault in Our Stars, sounds like just the guy to make it work.
20th Century Fox hasn't yet set a release date for New Mutants, but we're probably looking at 2018 at the earliest.