Neil Burger To Direct 'The Intouchables' Remake Starring Bryan Cranston & Kevin Hart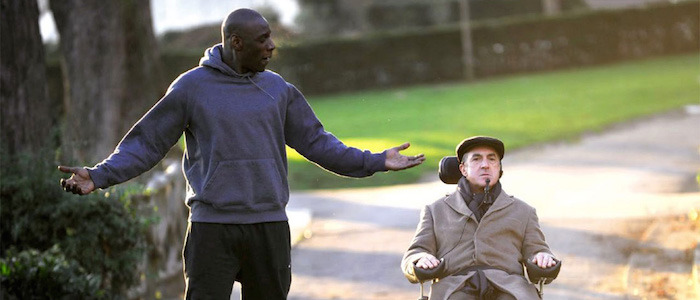 Neil Burger has been hired to direct The Weinstein Company's remake of The Intouchables, starring Kevin Hart and Bryan Cranston. Burger directed the 2006 Edward Norton film The Illusionist, as well as Limitless starring Bradley Cooper, and the YA adaptation of Divergent. More details on the Intouchables remake, after the jump.Jacob Hall's original story from March 31st, 2016 follows:The Intouchables may have grossed a paltry $10 million in the United States, but it was a massive hit everywhere else in the world, earning $416 million from international markets. The lesson here was clear: Americans won't respond to critically acclaimed, award-winning, crowd-pleasing movie if they have to read subtitles. The only solution: a remake, of course.
And while an American version of Olivier Nakache and Eric Toledano's 2011 comic drama has been in the works for some time now, the film has set its sights on two leading men. Are you ready for Bryan Cranston and Kevin Hart to form an unlikely duo and embark on a journey where they embrace life to its fullest? Sure, why not?
The news of Cranston and Hart circling the project was first reported by Deadline. Variety added a few additional details, including word that Woman in Gold and My Week With Marilyn director Simon Curtis is on board to helm the film, following in the footsteps of Tom Shadyac and Paul Feig, who wrote a draft of the screenplay before departing. Naturally, this is the tenuous stage where everything could fall apart, so don't go about treating any of this like gospel quite yet.
The original film starred François Cluzet as a wealthy aristocrat who hires a young black man (Omar Sy) from the projects to be his caretaker after he's paralyzed in an accident. Naturally, they develop an unlikely rapport and become close friends as they learn all kinds of valuable life lessons. It sounds like it could be a sentimental mess, but the reviews were kind, the box office enormous, and the film was a major player at the César Awards, where Sy took home the Best Actor award. Here's the trailer: 
Bryan Cranston, who just received an Oscar nomination for his work in Trumbo and who already has a shelf full of Emmys for his work on Breaking Bad, sounds like a fine choice for the Cluzet role. It's the Hart news that stands out as being a bit strange. That's not because Hart is a bad actor – whether you like his style of comedy or not, the man has charisma to spare. It's just that the diminutive, freewheeling comedian seems like an odd fit for a role that was previously played by such a physically imposing actor. Chris Tucker was considered for this part at one point, so it looks like we dodged a bullet no matter what.
Additional details about The Intouchables remain unknown, but you'll be able to see Cranston next in HBO's All the Way, where he plays President Lyndon Johnson, and you'll be able to see Hart in this summer's Central Intelligence, where he plays a comic foil to Dwayne Johnson.