The Force Awakens Bits: 'Star Wars' Wins Big At The Empire Awards, Every Line In That Big Flashback Scene, And The Craziest Stormtrooper Figure Of All Time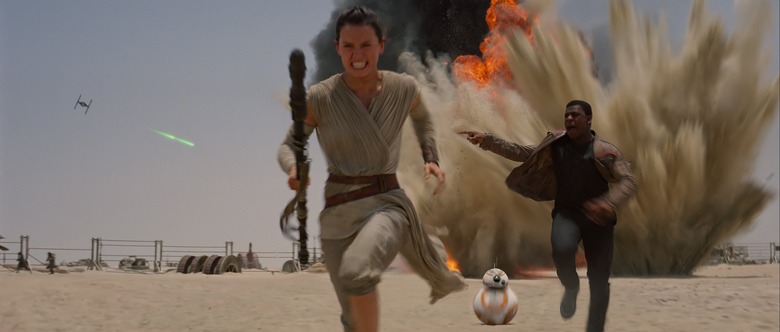 In today's edition of The Force Awakens Bits:
Star Wars: The Force Awakens wins big at the Empire Awards.
Ewan McGregor shares his opinion of The Force Awakens.
Kylo and Rey are now popular baby names.
Target teases their exclusive Blu-ray features.
The most insane Stormtrooper statue of all time is here.
A detailed breakdown of every line of dialogue in Rey's big flashback scene.
The cutest BB-8 cosplay ever.
It may have gone home empty-handed at the Academy Awards, but Star Wars: The Force Awakens really cleaned up at this year's Jameson Empire Awards (formerly known as, well, the Empire Awards). John Boyega won Best Male Newcomer for his work as Finn, Daisy Ridley won Best Female Newcomer for her work as Rey, and J.J. Abrams won Best Director. The movie also snagged Best Visual Effects and Best Sci-Fi/Fantasy Film. You can find a complete list of the winners over here.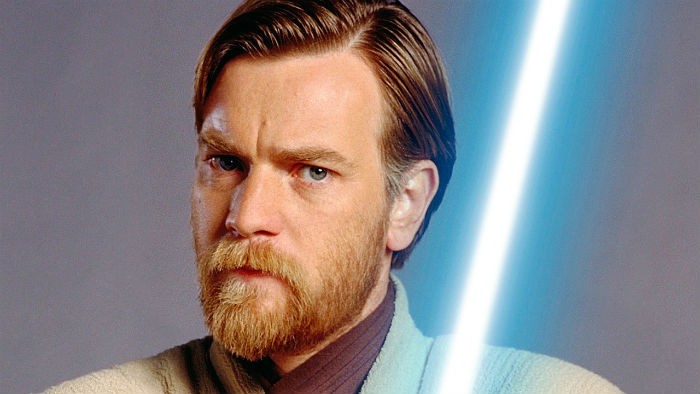 Collider recently sat down with Ewan McGregor to talk about his work in the new film Miles Ahead, but of course they ended up talking about Star Wars: The Force Awakens. And yep, McGregor has seen it and he had some very nice things to say about it:
I liked it. Funnily enough, we had a test preview of the film I directed, American Pastoral, in Pasadena with 300 people, and they fill in cards after test screenings to tell you what they thought about your film. And of course when you do that, you have to check the print before you get 300 people in. So that happened in the morning; we're all sitting in Pasadena and we'd all finished watching American Pastoral, and we're all happy—it looks good, it sounds good, we're good, we're ready. And then I had like four hours before the audience arrived. So instead of just wandering around Pasadena, I was in a cinema multiplex, and they were playing Star Wars, and I hadn't seen it yet. So I said, 'Okay guys, I'll see you in a couple of hours!' So I went from my film—I got some popcorn—and watched Star Wars, and I loved it. I really loved it. I thought it was great. I thought he did an amazing job. I was very excited to hear my voice come in. 'That was me!'
Of course, he would say that if he was secretly planning to play Obi-Wan kenobi one more time in a spin-off film...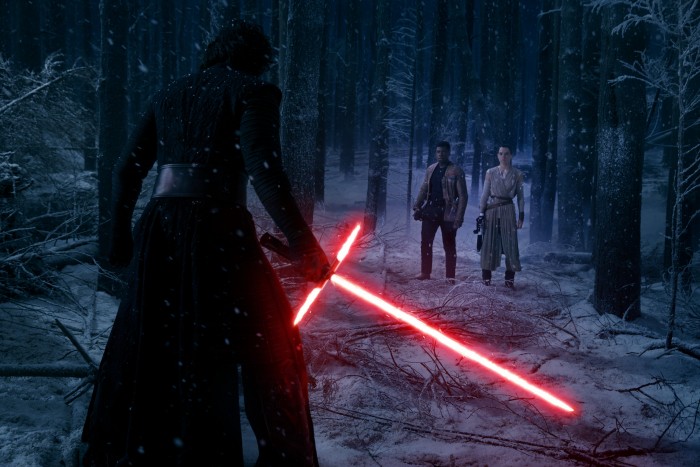 Attention grade school teachers: you can expect to start seeing kids with The Force Awakens-related names popping up in your classrooms in about five to six years. BabyCenter (via ScreenCrush) reports that the names Rey and Kylo have skyrocketed in popularity over the past few months. Kylo has leapt from #3,774 to #1,165 on the popularity charts and Rey has jumped from #14,172 to #2,784. I have only two questions. First: who was naming their kids Kylo and Rey before this movie? Second: who wants to name their kid after a father-murdering psychopath? I mean, Rey totally makes sense, but Kylo?
Target has revealed a brief snippet of the bonus features that will be exclusively available from their version of the Blu-ray and DVD. You can watch it above. Here's what you'll get by picking up their particular edition:
Counting down the days until April 5, the day Star Wars: The Force Awakens drops on Blu-ray and DVD? By now, you've probably heard that Target's exclusive Blu-Ray combo pack is the only one on the market that features two exciting exclusives. 
The set contains over 20 minutes of bonus content, including a never-before-seen interview with the film's breakout stars, Daisy Ridley (Rey) and John Boyega (Finn). You'll also get a behind-the-scenes look at how the actors trained for their incredible stunts and fight scenes, interactions between the new and veteran cast members, a closer look at how the props team designed and produced some of the film's new weapons, and lots more.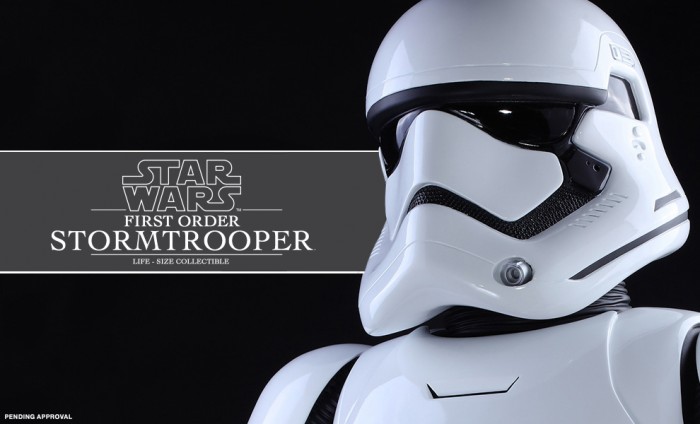 Speaking of psychopaths, Sideshow Collectibles has revealed a life-size First Order Stormtrooper statue that can be yours for only $7,999. If that's a little steep for you, you can easily sign up for a payment plan that will only cost you $800 per month (after a $1,600 down payment). Here are the dimensions:
The movie-accurate and realistic life-size collectible will be available in selected markets and stands approximately 6.1ft/1.8m tall (approx. 6.7ft/2m tall with base). It features an authentic and detailed likeness of the First Order Stormtrooper, a meticulously sculpted First Order Stormtrooper helmet and armor, a special glossy paint application, a striking presence with a blaster rifle in hand, and a Star Wars themed circular base.
If you are a crazy person (or a very rich one), you can go pre-order this thing right now. It's expected to ship as early as August of this year.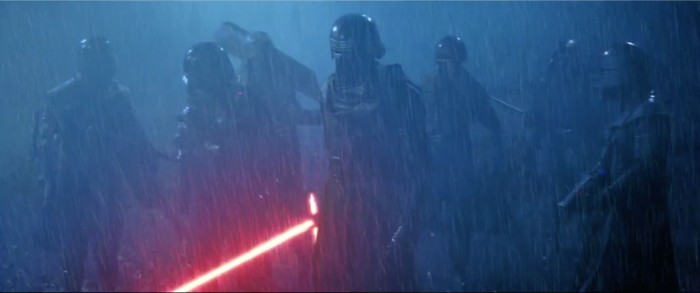 Fans thought they had already run through Rey's big flashback/flashforward scene in The Force Awakens with a fine-tooth comb, but Jedi Center has officially put all of us to shame. It turns out that the audio in this scene features a great deal more than a few quotes from Obi-Wan Kenobi and Yoda – a number of lines of dialogue, including snippets from Luke Skywalker and Emperor Palpatine, can also be detected. Star Wars News Net has sourced every one of this hidden lines to their location elsewhere in the saga and it all breaks down like this:
[00:08] Yoda: It's energy... – original scene.
[00:14] Yoda: ...surrounds us... and binds us. – original scene.
[00:14] Luke: No! No! – original scene.
[00:21] Obi-Wan: You will be tempted... – original scene.
[00:23] Obi-Wan: But you cannot control it. – original scene.
[00:25] Yoda again "surrounds us..."
[00:25] Obi-Wan: The Force will be... – original scene. 
[00:35] Palpatine speaks to Anakin "...any Jedi!" – audio via ForceMasterJ
[00:38] Obi-Wan: You will do it... – original scene.
[00:48] Obi-Wan: Rey... – original scene. 
[00:53] Obi-Wan: These are your first steps.
So when you buy the Blu-ray next week, keep this handy and follow along.
It's official: the cutest BB-8 cosplay yet has been discovered at WonderCon 2016. Don't even try to top this one, people. It can't be done. No other comments are necessary.
So why did Kylo Ren really turn to the Dark Side? The full details of his transformation from innocent Padawan into remorseless killing machine will surely be explored in Star Wars: Episode 8, but this video offers some pretty compelling evidence as to... Nah, it's just a humorous and video. But who knows? Maybe it's exactly right.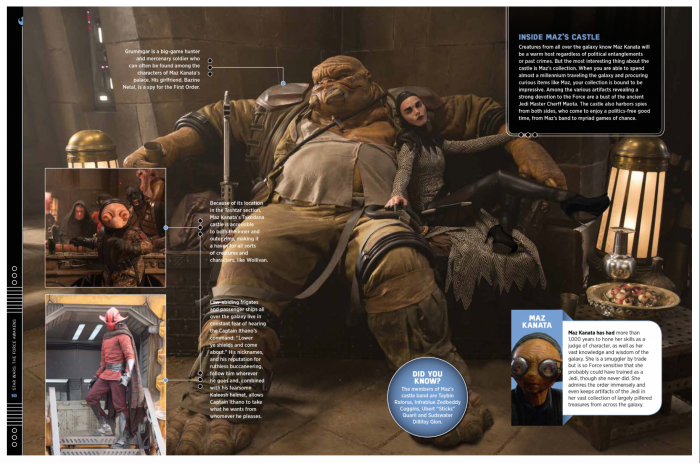 Star Wars: The Force Awakens, The Official Visual Story Guide, a special edition magazine that features "a complete retelling of the film's story, analysis of characters, weapons, and more, and more than 100 pages of photos and facts" is on newsstands now and StarWars.com has revealed a few sample pages. You can check 'em out above and below.