This Week's 'The 100' Is A Very Special Episode [Wondercon]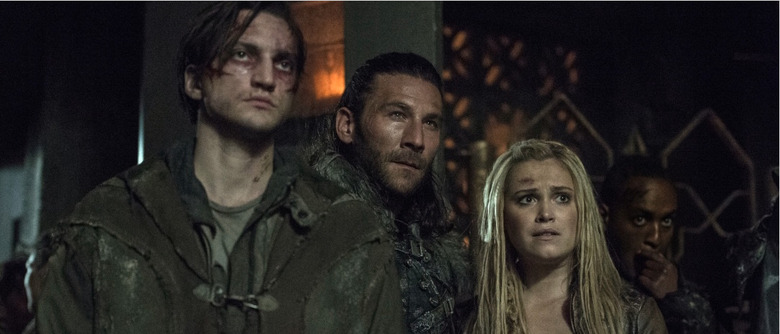 The cast and creator of The CW's The 100 were at WonderCon last weekend for a panel. After their panel, we caught up with creator Jason Rothenberg and stars Eliza Taylor and Lindsey Morgan in roundtables. The show has been on hiatus for a few weeks after a devastating episode in which (spoiler alert!) Lexa (Alycia Debnam-Carey) dies moments after consummating her love with Clarke (Taylor). The Flame, an A.I., is removed from Lexa's neck and saved for the future commander. Rothenberg said The 100 will address that story for the rest of the season, but takes a bit of a break this week.
"Episode 9 is a different story," Rothenberg said. "It's a very emotional episode and it has a lot of things in it that will be hard for people to watch, but it's a very special episode in many ways. The story of The Flame from the Arcadia side of it, from A.L.I.E.'s side of it is taking a week off. In 10 is when that really begins to ramp up in a huge, huge way." 
Poor Clarke still doesn't have any time to grieve. "Not really, no, she doesn't," Taylor said. "Obviously, she's grieving, there's no way around that, but in this next episode she's going to be faced with Ontari coming back and basically saying, 'I'm going to be the next commander and I'm going to wipe out your people.' So she's had to figure out a way to deal with Lexa, to cope and move on with this really urgent matter which is obviously what Clarke does every time somehow."
The death of Lexa provoked a bit of a controversy, and Rothenberg has apologized for not recognizing the TV trope of gay characters dying as a plot device. Debnam-Carey is a regular on AMC's Fear the Walking Dead and appeared on both shows as long as was possible. Taylor addressed the episode from an emotional standpoint herself.
"It's a real fucking sensitive issue, pardon my French," Taylor said. "Of course I was worried but all we could do was make it the best that we could with the script that we were given. I think it has to be said at some point, Alycia had to go to a different show. Our fans are really upset about her going and I know there's a whole lot of other stuff I'm not even going to go into, but the fact that she died in my arms, I feel like we both crossed a threshold acting-wise. That was a hard day and we went for it, just tears. We went to the scary feely place and I'm grateful for the experience."
Taylor suspects the impact on Clarke will be permanent and she won't be able to love again. "I've thought about that and I don't know if she's going to be able to love anyone the way she loved Lexa," Taylor said. "Not in our world. There's only one Lexa."
Meanwhile, Raven (Morgan) has taken the chip for the City of Light to relieve the pain of her nerve damage, and loss of loved ones. Morgan said we will see Raven regret her decision to take the chip and rebel against it.
"Now you're going to see Raven realizing what she really got herself into and how the hell is she going to get herself out of it?" Morgan said. "You're going to see me and Raven get tested in ways that I never have before as an actress too and as the character Raven. As far as roller coaster, it gets a hell of a lot faster. Get ready. I would say Raven and Jasper rebel within themselves first and within their team dynamic first. Then they enlist the others. Within that becomes a greater rebellion of it all. So you'll see how it's all going to tie in and it's going to be a big thing. "
The 100 airs Thursdays at 9 PM on The CW.