Exclusive: 'The Dark Horse' Clip Features Cliff Curtis As A Real-Life Chess Champion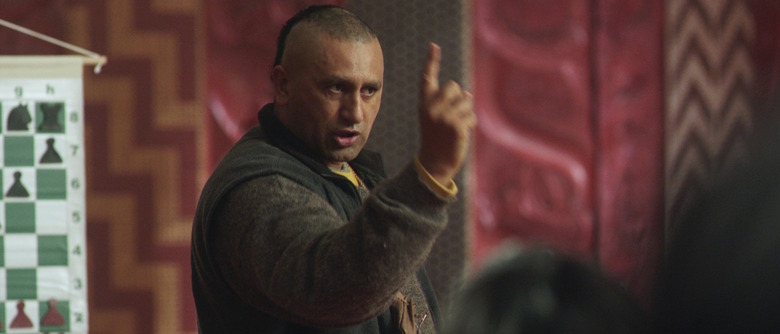 Fear the Walking Dead returns for season 2 in just a couple of weeks, but before we get there, we'll have the opportunity to see star Cliff Curtis in a very different kind of role, in a very different kind of movie. In the based-on-a-true-story drama The Dark Horse, Curtis plays a former chess prodigy in New Zealand. He's released from a mental institution into the care of his brother (Wayne Hapi), and finds a new direction when he volunteers to help teach chess to underprivileged kids — including his teenage nephew (James Rolleston).
The building blocks of The Dark Horse sound more than a little familiar, but writer-director James Napier Robinson seems determined to steer away from easy sentimentality. Instead, he aims for a more grounded portrait of a complicated genius and the equally complicated people surrounding him. The Dark Horse has making the festival rounds for the past year and a half, and is now about to roll out into U.S. theaters. Today, just ahead of that release, we're happy to share an exclusive clip from the movie. Watch it below. 
And here's a full-length trailer in case you need some help putting it into context.
The Dark Horse has flown mostly under the radar up until now, but it's collected some very promising reviews along the way.
gave it an A, singling out (like most other reviewers) Curtis' powerful and heartbreaking performance as Genesis. Also earning high praise is Rolleston, who made his screen debut as the Boy in Taika Waititi's Boy. He's older now, obviously, and looks poised to enter a new chapter of his career. And the
praises Robertson for "mak[ing] something new" out of familiar tropes.
The Dark Horse opens this Friday, April 1 in New York and Los Angeles and will roll out to more cities in the coming weeks;
to see when it's coming to yours. Here's the synopsis:
THE DARK HORSE is based on the true story of Genesis 'Gen' Potini (Cliff Curtis), a Maori speed-chess champion seeking redemption and a new purpose in life despite his struggles with bipolar disorder. A former chess prodigy, Gen is brilliant and charismatic, bringing unusual, potent energy to a game most often played with quiet reserve. Upon his release from an institution, he is remanded into the custody of his older brother Ariki (Wayne Hapi), the leader of a rough street gang planning the initiation of Gen's reluctant teenage nephew Mana (James Rolleston). When Gen volunteers to coach the ragtag young members of the Eastern Knights chess club, Mana is inspired by his uncle's determination to bring hope to the children of the club and turn his troubled life around, while seeing it as a chance to possibly save his own.