'Nerdland' Red-Band Trailer: Paul Rudd And Patton Oswalt Lend Their Voices To An R-Rated Animated Comedy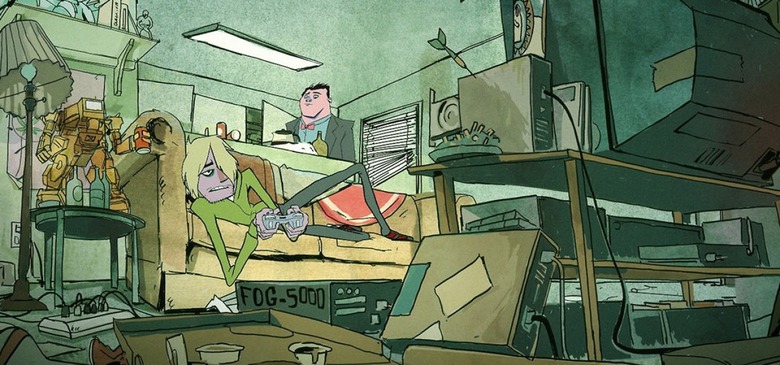 Sausage Party isn't the only R-rated animated film featuring a standout cast we'll see this year. Next month, Nerdland will make its premiere at the Tribeca Film Festival, and the voice cast includes Paul Rudd, Patton Oswalt, Mike Judge, Hannibal Buress, Molly Shannon, and Kate Micucci. For some, this film may have come out of nowhere, but if you're always keeping an eye on what screenwriter Andrew Kevin Walker (Se7en) is working on, then you might've already heard about this adult animated feature.
Now the first Nerdland trailer has arrived, and you can watch it after the jump. (Be warned: It's a red-band trailer, which means it's slightly NSFW.)
Directed by Metalocalypse producer Chris Prynoski, the film focuses on an aspiring actor, John (Rudd), and an aspiring writer, Elliot (Oswalt). Set in Hollywood, the story follows these two talentless friends as they find themselves on the brink of turning 30. Sick of working for fame and fortune, the two decide it's time to do whatever is necessary to achieve success.
Here's the Nerdland trailer (source: Variety):
It's been far too long since we've seen Andrew Kevin Walker's name on the big screen. Not since 2010's The Wolfman has a film been credited to the screenwriter. However, last summer a novel of his, "Old Man Johnson," was released, and from what I've heard, it's rather good.
The screenwriter, who's also done some uncredited work on David Fincher's films, has a dark and very clever sense of humor, which is on full display in this frequently bonkers trailer for Nerdland. If this animated feature wasn't on your radar before, it should be now. Not only does it look wild and funny, but the animation looks eccentric and wacky.
Here's the synopsis via Tribecca:
Aspiring actor John (Paul Rudd) and would-be screenwriter Elliot (Patton Oswalt) are two LA dudes approaching their 30th birthdays without yet becoming the megawatt superstars they know they were meant to be. In a town built on who you know (and who knows you), the ambitious duo will set out on an all-day journey through their all-star rolodexes to make it big by the end of the night.
The first feature from animation house Titmouse, Inc. whose brainchildren include Metalocalypse, Moonbeam City and Superjail!, Nerdland is a hallucinatory Hollywood road trip told in an appropriately bold and distinctive animation style. Featuring an army of comedy cameos including Hannibal Burress, Larraine Newman, Mike Judge, Kate Micucci & Riki Lindhome, Venture Brothers' Jackson Publick, Molly Shannon, Charlene Yi, and Paul Scheer, this is an R-rated cartoon comedy about celebrity, excess, and two showbiz nobodies with a plan to become famous—or even infamous—no matter what...
Nerdland currently doesn't have a distributor or a release date.