James Gunn "Not Sure" If He'll Return For 'Guardians Of The Galaxy Vol. 3'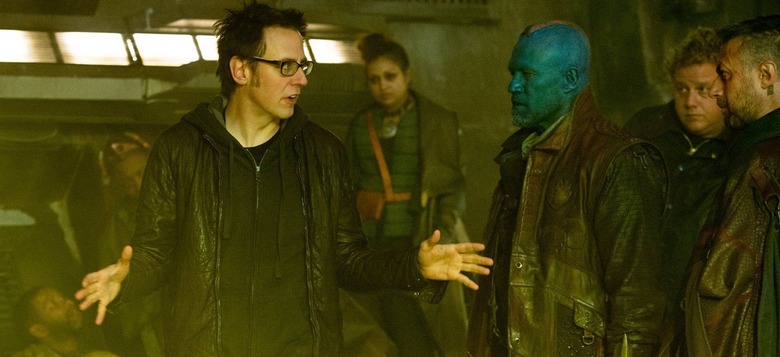 James Gunn hasn't been shy about his love for Marvel and the Guardians of the Galaxy movies. He's gushed, often, about how much he enjoyed making the first one, and signed on for the sequel before the first film even hit theaters. But even Gunn can't do this forever. The director recently admitted that he's "not sure" if he'll return for Guardians of the Galaxy Vol. 3, even as he acknowledged he's "talked" with Marvel about the possibility. 
During a Facebook Q&A, Gunn addressed his future, or lack thereof, with the Marvel Cinematic Universe:
Right now I really am just concerned with doing Guardians of the Galaxy Vol. 2. I'm not sure what I'm going to do after this. Marvel has talked to me about continuing on. I'm not sure if that's what I want to do or if that's not what I want to do. I really just want to make Guardians of the Galaxy Vol. 2 the greatest possible movie that I can, and something that's as honest and sincere and true as it can possibly be.
(If you decide to watch the video at Facebook, the quote above comes around the 13:50 mark.)
Gunn doesn't actually come out and say Marvel's asked him to return to direct Guardians of the Galaxy Vol. 3. But it seems reasonable to assume that's what he means by "continuing on," especially given that he's hinted at plans for a third film before. To be sure, there's no need to panic just yet. As Gunn points out, he's currently too busy with Vol. 2 to spend a lot of time mulling over Vol. 3. Moreover, Marvel hasn't even officially announced a Vol. 3, probably because Vol. 2 won't hit theaters for another year. In short, it's not surprising that neither side has its post-Vol. 2 plans locked in stone at this point.
By the time Guardians of the Galaxy Vol. 2 comes out, Gunn will have been working on these movies for five straight years. It'd be entirely understandable if he felt the need to take a break and do something else for a while. At the same time, Gunn's done a better job than most of putting his own distinctive mark on his little corner of the Marvel Cinematic Universe, and his presence would be missed if he opted not to do Vol. 3. Do you want Gunn to come back for Vol. 3, or are you ready to see him move on?