New 'Finding Dory' Photos Reveal A 'The Wire' Reunion, Impossibly Adorable Sea Otters, And More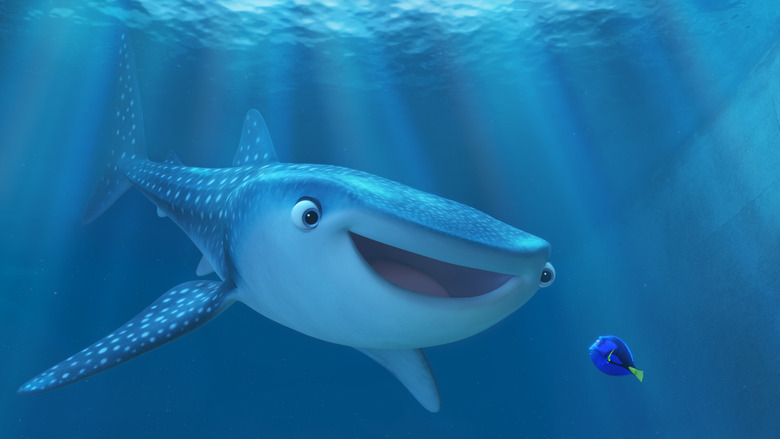 Finding Nemo took us to a whole new world under the surface, populated with "vegetarian" sharks and hippie sea turtles and other exotic sea creatures. This summer's Finding Dory promises to reunite us with some of those same fish while introducing us to still more colorful characters. Those include a cantankerous octopus named Hank (Ed O'Neill), a sweet whale shark named Destiny (Kaitlin Olson), and a beluga whale named Bailey (Ty Burrell).
But that's not all. Also lurking in the cast are Eugene Levy and Diane Keaton as Dory's parents, Bob Peterson as an eagle ray, and Idris Elba and Dominic West as a pair of Guy Ritchie-inspired sea lions — which, yes, makes Finding Dory the Wire reunion you never knew you wanted. Hit the jump for a batch of photos featuring the latest new Finding Dory characters. 
USA Today unveiled a slew of Finding Dory character photos. You can see the full set at their website, but we've highlighted some of the less familiar faces below.
Finding Dory follows the forgetful blue tang (once again voiced by Ellen DeGeneres) as she swims to Monterey, California in order to find her parents Jenny and Charlie (pictured above). She'll be accompanied by her friends Marlin and Nemo, but she'll also encounter a wide range of new creatures.
Of particular note for TV lovers will be Rudder and Fluke, the sea lions voiced by West and Elba respectively. Stanton said he simply envisioned the characters as East London gangsters of the sort you'd see in Guy Ritchie movies. "Idris and Dominic are well-trained, dramatic Shakespearean actors, but they can do comedy like nobody's business," said Andrew Stanton. "But the truth is, I really wanted to witness a Wire reunion." It's the kind of reference that's bound to sail right over kids' heads, but will probably make their parents chuckle in the theater.
Also pictured above are Mr. Ray, the spotted eagle ray voiced by Peterson, and Becky, a loon who doesn't speak, exactly. "Loons are the seagulls of this movie," explained Stanton. Rounding out the gallery above are a group of unbearably adorable baby sea otters — which is actually a pretty egregious misrepresentation of these creatures, as Stanton readily admits. "The truth is, otters are quite vicious. But no one wants that to be true. So we didn't follow that," he said. "The otters ended up being more successful as cute creatures that just stare at you. We knew the effect they have on people."
Finding Dory swims into theaters June 17.