Don't Expect To See Any Slo-Mo Chariot Races In The 'Ben-Hur' Remake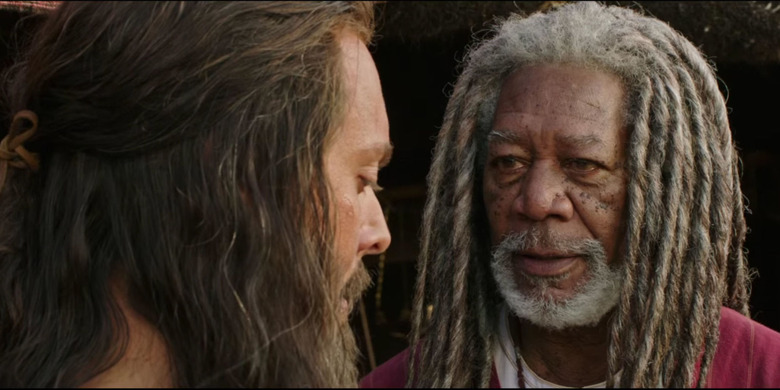 "Action star" probably isn't the first thing you think of when Judah Ben-Hur's name comes to mind. He doesn't believe in killing. Compassion is Ben-Hur's true weapon, and that's why he's such a heroic character, especially in William Wyler's 1959 film.
A few weeks ago we got our first look at the upcoming reimagining of the film, which is directed by Timur Bekmambetov (Wanted). And although the trailer has plenty of excitement, according to the director, this version will not turn Judah Ben-Hur into a more modern action hero.
As Angie noted in her write up of the trailer, this film technically isn't a remake. This is a "re-adaptation," which is apparently more faithful to Lew Wallace's 1880 novel. While words like "reimagining" and "re-adaptation" are far too often thrown around for straight up remakes, this version can rightfully be called a "reimagining," since the original 1959 film is not public domain, while Wallace's novel is.
Earlier today we spoke with Bekmambetov, discussing his career and an upcoming feature he produced, Hardcore Henry. If anyone is expecting plenty of slow-motion shots from this version of Ben-Hur, the director wants you to know this isn't that kind of movie:
The style comes from the script and the tone of the movie. For example, in Ben-Hur, it's very, very different. The visual concepts are very different, because it was very important, for this project, following John Ridley's (12 Years a Slave) script, to make it as grounded as possible and as real as possible. In the whole movie, there's not one slow-motion shot [Laughs]. It's handheld, no huge crane shots, slow-motion, or whatever. It's a very grounded style of filmmaking, which was important.
Bekmambetov, of course, is aware that comparisons made to the 1959 film are inevitable:
This movie is the third movie based on this book. No matter what, people will compare it [to the 1959 film], and there's no way you can survive comparisons made to the classical movies. People will not compare us to the movie, but to the dream, the memory [of the movie]. The movie should be very different in order to survive, and that's why Ben-Hur is very realistic. It's a realistic, deep drama, not a huge tentpole attraction. It's just drama.
The director added that the film is "not Ben-Hur's story, it's Ben-Hur and his brother's story." Bekmambetov's hope is that audiences care about both characters. Unlike in the 1959 film, Messala (Toby Kebbell) is not portrayed as the big bad of the film. To Bekmambetov, the characters just go down two separate paths.
Here's the official synopsis:
BEN-HUR is the epic story of Judah Ben-Hur (Jack Huston), a prince falsely accused of treason by his adopted brother Messala (Toby Kebbell), an officer in the Roman army. Stripped of his title, separated from his family and the woman he loves (Nazanin Boniadi), Judah is forced into slavery. After years at sea, Judah returns to his homeland to seek revenge, but finds redemption. Based on Lew Wallace's timeless novel, Ben-Hur: A Tale of the Christ. Also starring Morgan Freeman and Rodrigo Santoro.
Ben-Hur opens in theaters August 12th.