J.J. Abrams-Produced 'God Particle' Casts David Oyelowo And Gugu Mbatha-Raw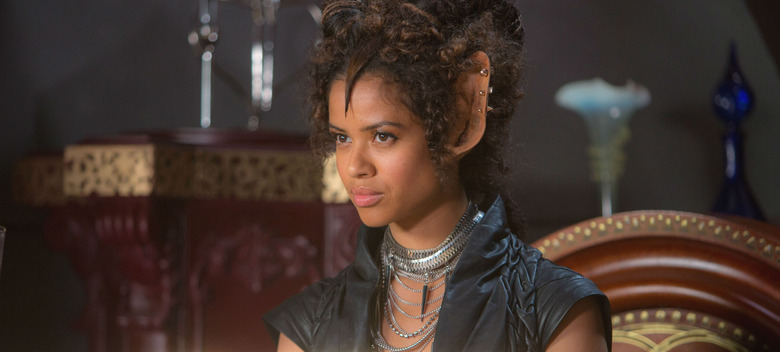 The mystery box surrounding the J.J. Abrams-produced God Particle has cracked open just wide enough to let in a couple more people. David Oyelowo and Gugu Mbatha-Raw have just signed on to star in the sci-fi feature, which is being directed by Julius Onah for Paramount. It's a major step forward for the project, which has been in development since 2012 but only recently set a 2017 release date. 
As reported by Variety, God Particle is set in the near future and "centers on a team of astronauts on a who make a terrifying discovery that challenges all they know about the fabric of reality, as they desperately fight for their survival." Earlier reports made reference to a large hadron accelerator, a disappearing Earth, and a European spacecraft that could spell salvation or doom — but it's possible the script has evolved since we last heard about it. There's no word yet on which characters Mbatha-Raw or Oyelowo will be playing.
Oren Uziel (22 Jump Street) and Doug Jung (Star Trek Beyond) are among those who've worked on the script. Bryan Burke is producing with Abrams through Bad Robot. Shooting is expected to get underway this spring or summer for release on February 24, 2017.
Although God Particle has been simmering for years, Paramount is apparently eager to move full steam ahead now that Bad Robot's 10 Cloverfield Lane has turned out to be such a big hit for them. In fact, some have speculated that God Particle could turn out to be the next Cloverfield film. After all, 10 Cloverfield Lane started out as a low-budget, low-profile thriller called The Cellar before it was reworked as a Cloverfield movie, and Abrams has teased the potential for another Cloverfield film. That doesn't necessarily mean God Particle will be a Cloverfield sequel – 10 Cloverfield Lane wasn't one either — but based on the plot description, it could be another "blood relative" that shares a similar vibe.
Whether or not God Particle winds up with a Cloverfield title, though, Mbatha-Raw and Oyelowo make for a promising cast. She previously worked with Abrams on the short-lived TV series Undercovers, and since then she's built up an eclectic resume of notable projects including Belle, Beyond the Lights, Jupiter Ascending, and Concussion. Her next films include the Matthew McConaughey Civil War drama Free State of Jones and Disney's live-action Beauty and the Beast remake.
Oyelowo earned rave reviews for his performance in Paramount's Selma, and re-teamed with the studio this year for the religious drama Captive. Coming up next for him are A United Kingdom with Rosamund Pike, Queen of Katwe with Lupita Nyong'o, that controversial Nina Simone biopic with Zoe Saldana. He is now shooting American Express with Charlize Theron and Joel Edgerton for director Nash Edgerton (brother of Joel).