POTD: Garry Shandling's Closest Friends Gather For One Last Basketball Game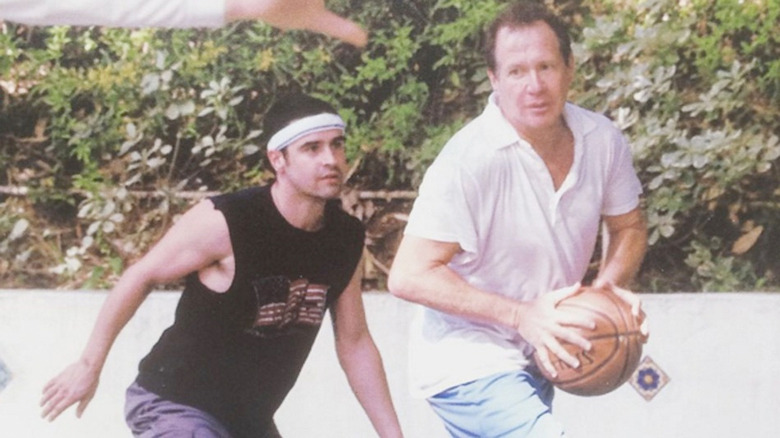 Sadly, last week brought news that iconic comedian Garry Shandling had passed away suddenly at 66 years old. The longtime stand-up comedian  and creator/star of The Larry Sanders Show has influenced some of the top comedians working today, and he counts among his friends some of the best in the business.
As a way of saying goodbye, over three dozen of them gathered as Shandling's house for one last game of pick-up basketball on the comedian's home court, something he was very fond of doing while he was alive and well. See a photo of everyone gathered for the honorary Garry Shandling basketball game after the jump.
Here's the photo posted to Instagram by Judd Apatow, who was in attendance:
One last game of basketball at Garry's house to say goodbye.
If you look carefully you can spot the likes of Jeffrey Tambor, Bill Maher, Kevin Nealon, Ben Schwartz, Sarah Silverman, Breckin Meyer, Ryan Phillippe, Kathy Griffin, Judge Reinhold, Jesse Bradford and Adam McKay. Thankfully, if you want to know everyone pictured, Slate has a complete list of names to go with the faces, many of which comedy nerds will recognize as comedy writers and producers.
Shandling loved basketball so much that he even shot some footage on his home court for the special features on The Larry Sanders Show DVD release, and his weekly game was covered as part of a feature at GQ. This just goes to show you how beloved Garry Shandling was among his friends, and this is a very cool way to pay tribute to the late comedian.
Thanks to Jesse Bradford for sharing the header image on Instagram.