Cool Stuff: NECA's Life Size Slimer Is An Ugly Little Spud, Isn't He?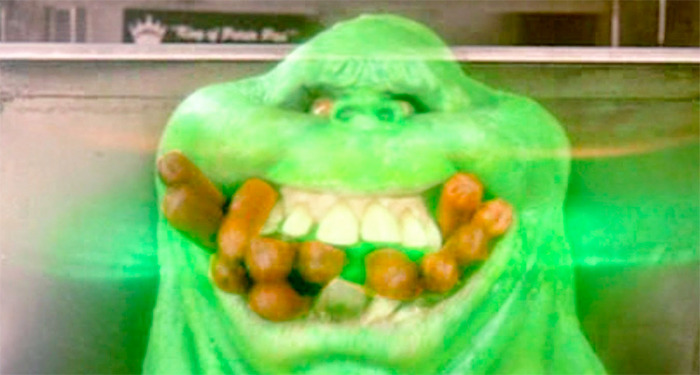 No matter what you believe about what happens after we die, you have to admit it would be cool if ghosts existed. However, if that were the case, I'd be really curious to learn just who or what died to give afterlife to the spook known as Slimer in the classic paranormal comedy Ghostbusters. The big, green, floating blob isn't exactly a person or an nimal, but he loves hot dogs and pretty much any food he can shove into his mouth to fall through his body. And now you can bring him home.
NECA has unveiled a life size Slimer replica that you can bring home later this year, but it's going to cost you. See the life size Slimer replica after the jump and find out how much it's going to cost you.
Here's the life size Slimer replica, coming in August after the reboot hits theaters, from NECA's website:
That's a pretty impressive replica, but I do wish his skin were a little more translucent, much like the Slimer that we see in Ghostbusters, to make it look like it's made of actual slime. The life size Slimer isn't available for pre-order just yet, but NECA's site says this about the item:
Add a delightfully spooky touch to any room with a life-size replica of everyone's favorite non-terminal repeating phantasm!
This actual size foam Slimer replica figure is based on the 1984 Ghostbusters movie and was re-created from original movie molds. The figure measures 3 feet tall and is made of foam rubber and latex that's carefully hand-painted for realistic detail. Ships in one box, some assembly required.
Now for the bad news. If you want this bad boy in your home, it's gonna cost you $700. Now might be the time to sell one of those kidneys you're not using. It may cost more than that awesome LEGO Ghostbusters firehouse set, but it probably costs a hell of a lot less than proton charging and storage of the beast.