'Orphan Black' Gets Its Own After Show, 'After The Black'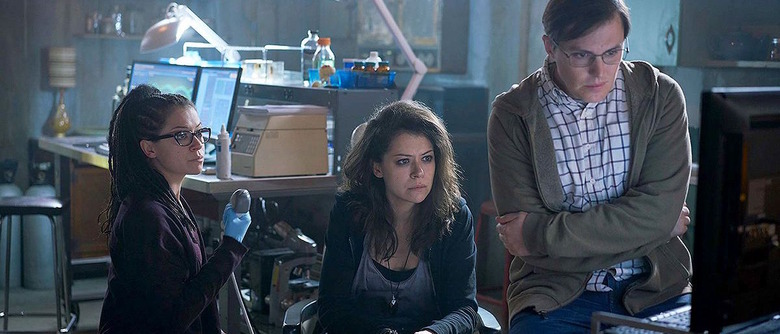 For a lot of Clone Clubbers, the only thing more fun than watching Orphan Black is talking about Orphan Black. There's plenty to say about this show from week to week: It's never short on cryptic clues or shocking twists, and lead Tatiana Maslany seems to find a new way to outdo herself every few episodes.
And now BBC America wants to lead that conversation. The network has just announced an after-show called After the Black, which will do for Orphan Black what AMC's Talking Dead does for The Walking Dead. 
BBC America has revealed that After the Black will make its debut on Thursday, April 14 at 11/10c, right after the fourth season premiere of Orphan Black. InnerSPACE alums Ajay Fry, Morgan Hoffman, and Teddy Wilson will serve as hosts. Maslany and Kevin Hanchard (who plays Detective Art Bell) will be the very first guests on the very first episode of After the Black.
Per the press release, After the Black promises a weekly "30 minute in-depth, lively discussion with cast, crew and special guests, about plot hints and twists, theories on future episodes and special segments including behind-the-scenes footage from set. But most importantly, fans will see an exclusive first look at the next episode of Orphan Black."
While television has always turned out great water-cooler moments, these days the talk surrounding as how is almost as crucial to some shows' appeal as the shows themselves. Lost became a bona fide pop culture phenomenon by encouraging in-depth analysis and discussion. Episode reviews and recaps have fans racing to their favorite websites as soon as the credits roll, to find out what their favorite critics and fellow viewers are saying about what just happened. And Chris Hardwick has built himself a miniature empire of shows about other shows, including the aforementioned Talking Dead.
Orphan Black has the kind of devoted fanbase that'd probably devour a show like After the Black. (Especially considering how convoluted and confusing its plotlines have gotten; I might need to watch the after show just to figure out what's happening on the show.) It just makes sense that BBC America would want to make the most of that chatter, capitalizing off of the energy of fans while giving them more of what they love. Will you be tuning into After the Black this season, or is one hour of Clone Club per week enough for you?