'Kingsman 2' Reveals New Title, New Concept Art, And Some Really Weird New Story Details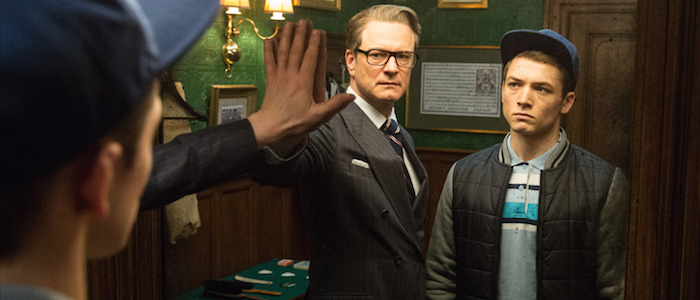 With a summer 2017 release date already locked in, Kingsman 2 is slowly starting to take shape, and today we have some more details on the upcoming spy sequel. Like, for starters, the title: Kingsman 2 is officially called Kingsman: The Golden Circle. What exactly the Golden Circle is remains mysterious at this point, but you can start piecing together your guesses based on the new concept art and story details that have come along with that new name. 
Empire Magazine (via CBR) has the details on Kingsman: The Golden Circle. The concept art shows a pile of rubble that used to be Kingsman HQ, and it's after that attack that Eggsy (Taron Egerton) and Merlin (Mark Strong) head to the U.S. to team up with their American counterparts, known as Statesman. The organization is lead by Jack, described as a "swaggering, sharpshooting cowboy," and Ginger, played by Halle Berry.
Speaking to the magazine, director Matthew Vaughn explained how he came around to directing Kingsman: The Golden Circle:
I didn't know if I wanted to direct this or not. I was worried about the villain. Spy films are only as good as their villains. Then one morning I woke up with the whole storyline in place, and a new villain plot.
He's probably talking about the new villain Poppy, played by Julianne Moore. You can see Poppy's lair, as well as the Statesman HQ (disguised as a whiskey distillery) in the images below. There's more where that came from here, including an image of a Kingsman cab going underwater like a submarine.
One of the most exciting set pieces in Kingsman: The Secret Service was a massacre set inside an American church. Vaughn knows fans are hoping for another scene on that level, but instead promises some other crazy stuff including a scene of the heroes getting attacked by "a massive fucking frankfurter":
You try not to read what people want, but they do want another church sequence. I have no reason for another massacre to happen. But I have other sequences you've never seen before.
Vaughn will have his work cut out for him if he wants to top that church sequence (which was a pretty impressive feat of choreography and shooting and special effects) but it's nice to hear he's trying to bring something new to the table, rather than just repeating what worked the first time. Although the frankfurter thing sounds pretty damn weird.
Kingsman: The Golden Circle arrives June 16, 2017.