Dominic Cooper Could Do Both 'Agent Carter' And 'Preacher' [Wondercon]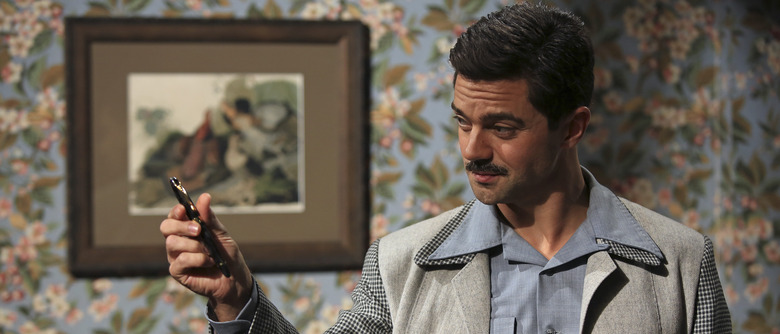 Dominic Cooper was at Wondercon promoting Preacher, the upcoming AMC series based on Garth Ennis and Steve Dillon's comic book, in which he stars as Jesse Custer. Meanwhile, Marvel fans are awaiting word on a third season of the series Agent Carter. Set in the post-WWII era, Agent Carter features Cooper in a recurring role as Howard Stark. Should both shows continue, Cooper suspects he would be able to do both, at least staying on in a guest starring capacity on Agent Carter.
"Yeah, I hope so," Cooper said. "Yeah, because Howard Stark kind of runs in and runs out. He does some ridiculous thing, creates some madness and then hops off on a plane with a leggy blonde." 
The second season of Marvel's Agent Carter wrapped March 1, concluding a season that saw Peggy Carter (Hayley Atwell) come to Hollywood in the Golden Age of glamour and celebrity. There is still plenty more room before Agent Carer catches up with the present day Marvel Cinematic Universe. As much as Cooper wants to play Howard Stark again, he knows no more than the reporters asking him.
"I hear nothing," Cooper said. "I'm waiting. I think it's great, that show. Fingers crossed."
Agent Carter and Preacher are on extremely opposite ends on the comic book show spectrum. Preacher casts Cooper in the lead role, with a lot of heavy dramatic lifting as a preacher having a crisis of faith. That's before vampires and Genesis powers come his way. Cooper said he struggled with his performance as Jesse Custer, but that Howard Stark is more of a lark.
"The way I approach Marvel, I play a particularly fun character in those." Cooper said. "He's an inventor. It's just good, good fun but he's very, very different from the responsibility [of Preacher]. The responsibility of that is that you're Iron Man's dad."
Preacher premieres May 22 on AMC.