New 'Preacher' Photo Reveals First Look At "Arseface" In The AMC Series Adaptation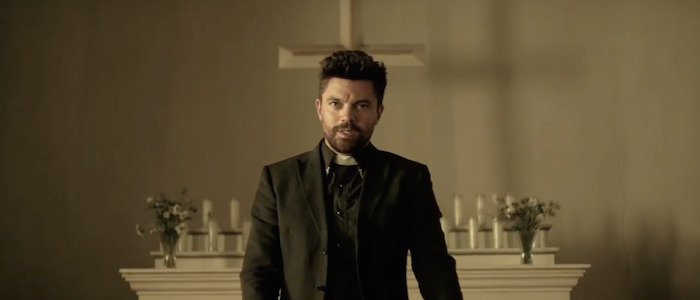 We won't get to see the supernatural comic book Preacher hit the air until May, but the
word out of the pilot's premiere
at the SXSW Film Festival earlier this month is that the series is an outstanding adaptation of the source material from Garth Ennis and Steve Dillon, perfectly balancing the line between "delightfully visceral and absurdly cartoonish."
Now one of the more cartoonish aspects of the show has been revealed with the first image of the character named Eugene Root (played by Ian Colletti). However, once you see the image after the jump, you'll understand why this character is better known by the nickname "Arseface"
Here's the first Preacher image of Ian Colletti as "Arseface" from AMC  (via
), unveiled at WonderCon: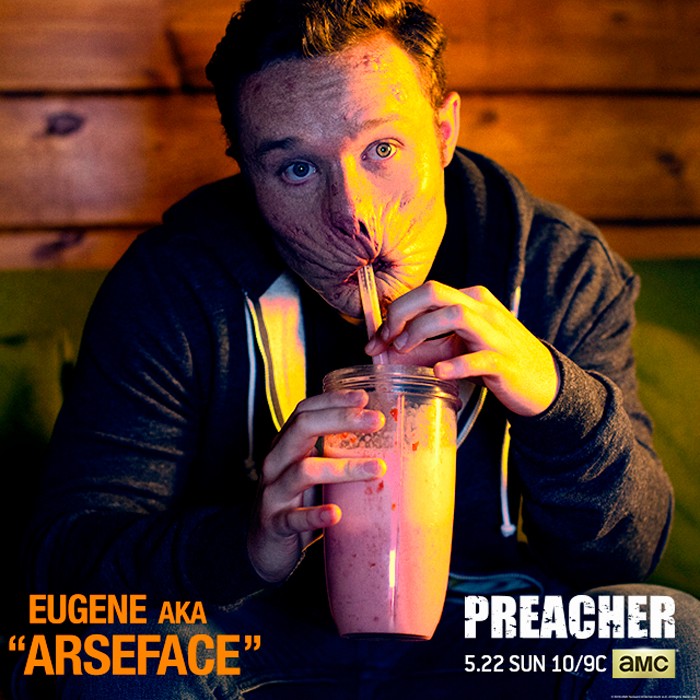 For those who don't know, "Arseface" is a sweet kid who attempted to kill himself, but didn't exactly succeed. And now he's been left with a disfigured face that makes his mouth look like, well, you know. However, this deformity doesn't keep the kids spirits down, and he's apparently one of the nicest kids you'll meet. That's probably a good thing since there's bound to be a lot of darkness on this show already.
As for how they made Eugene's face look like that, Ian Colletti is wearing a prosthetic. Rogen explained at a
Q&A following the premiere at SXSW
:
"We could never afford that in CGI – it's a prosthetic rig. That poor little f—er has to wear that s–t on his face. He has a positive attitude about it, but I know it f—ing sucks. He can emote a lot even with the thing on his face."
Eugene idolizes the title character, preacher Jesse Custer (Dominic Cooper), and his biggest concern is that something that he did in his past has turned God against him. Is it the suicide attempt, or something more? As someone who hasn't read the comics, I couldn't tell you. But since some of the reviews out of SXSW indicated enjoyment of the show from people completely unfamiliar with the source material, it sounds like anyone will be able to enjoy this show, unless they have a problem with blasphemy, blood and faces that look like asses.
The rest of the cast includes Ruth Negga is Tulip, and Joseph Gilgun is Cassidy, Lucy Griffiths as Emily, W. Earl Brown as Sheriff Root, Anatol Yusef as DeBlanc, Tom Brooke as Fiore, Derek Wilson as Donnie Schenck, and Jackie Earle Haley as Odin Quincannon. Seth Rogen and Evan Goldberg (This Is The End) executive produce the show, and they also directed the pilot. Breaking Bad's Sam Catlin will serve as showrunner, writer and executive producer.
If you want to see more of what you can expect from Preacher, check out the first trailer
.
"Preacher" is a supernatural, twisted and darkly comedic drama that follows a West Texas preacher named Jesse Custer, who is inhabited by a mysterious entity that causes him to develop a highly unusual power. Jesse, his badass ex-girlfriend Tulip and an Irish vagabond named Cassidy come together and when they do, they are thrust into a crazy world populated by a cast of characters from Heaven, Hell and everywhere in between.
Preacher debuts on AMC at 10pm ET/PT on May 22.