'The Conjuring 2' Trailer: England's Amityville Still Haunts Ed & Lorraine Warren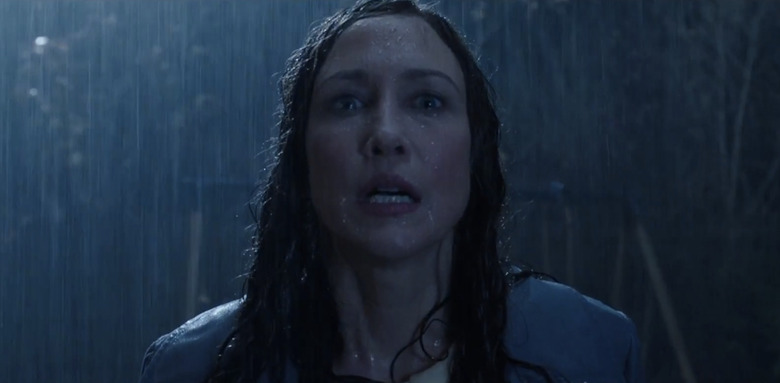 After delivering a dose of horror for the summer back in 2013 with The Conjuring, director James Wan is back with the sequel, and if the new trailer is any indicator, this looks like one of the most intense hauntings that the genre has ever seen.
Patrick Wilson and Vera Farmiga are back as paranormal investigators Ed and Lorraine Warren, and this time they're going across the pond to check out what many have referred to as England's Amityville, where a single mother and her children are being terrified over and over again by dark forces. It's like The Exorcist on steroids.
Watch The Conjuring 2 trailer after the jump!
The terror certainly seems to be much bigger this time around, confirming that James Wan has become a blockbuster horror filmmaker, which isn't easy to accomplish with this genre. Perhaps not since Wes Craven or John Carpenter has a director become so synonymous with horror, but it's up to fans to determine whether his brand of scares stands up to the iconic work of the directors who gave us A Nightmare on Elm Street, Scream, The Thing and Halloween. It's probably toi early in Wan's career to really make that call, but he's certainly on his way to becoming a big part of modern horror history.
The rest of The Conjuring 2 cast includes Frances O'Connor as the haunted house's matriarch, with new young actors Lauren Esposito, Patrick McAuley and Benjamin Haigh as her children. Other supporting cast members include Maria Doyle Kennedy (Orphan Black), Simon Delaney (Roy), Franka Potente (The Bourne Identity) and Simon McBurney (Mission: Impossible – Rogue Nation).
James Wan wrote the script for the horror sequel along with Cary & Chad Hayes and David Leslie Johnson. If you want to know more about what you can expect from the next chapter of terror from the files of Ed & Lorraine Warren, check out our set visit report that we filed earlier this year.
The Conjuring 2 brings to the screen another real case from the files of renowned demonologists Ed and Lorraine Warren. Reprising their roles, Oscar nominee Vera Farmiga and Patrick Wilson star as Lorraine and Ed Warren, who, in one of their most terrifying paranormal investigations, travel to north London to help a single mother raising four children alone in a house plagued by malicious spirits.
The Conjuring 2 arrives in theaters on June 10, 2016.