HBO Cancels 'Togetherness' After Two Fantastic Seasons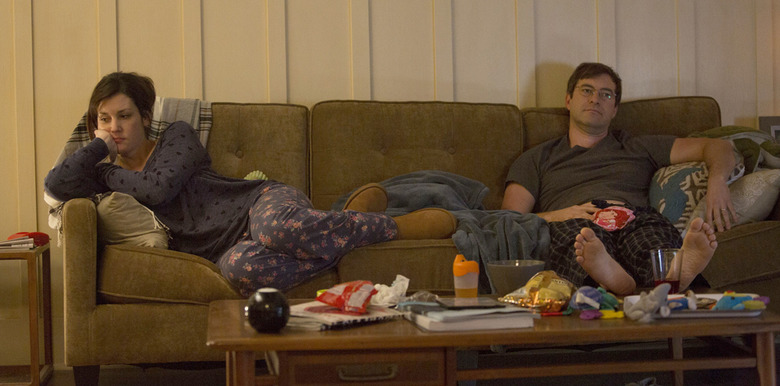 Even though HBO does a bang up job selecting original series that usually last a long time, sometimes the cable network just has to pull the plug for practical show business reasons. HBO has decided to cancel the series Togetherness, the family dramedy series created by Jay & Mark Duplass and Steve Zissis, after just two seasons on the network. Get details on the announcement of Togetherness canceled after the jump.
Deadline has the statement from HBO announcing the end of the impending end of the series, but they also say, "Although we have decided not to proceed with another season of Togetherness, we look forward to continuing our strong creative collaboration with the talented Jay and Mark Duplass."
The Duplass brothers, the filmmaking duo behind such films as Jeff Who Lives at Home and Cyrus, have an overall deal at HBO, where they also have the animated comedy series Animals on the air after already being picked up for two seasons. So that's why the cable network wanted to make it clear that their relationship is still going well.
The reason Togetherness is being canceled, despite being a very intimate, funny and touching series, is simply because of ratings. The show was pulling in a decent 427,000 viewers for live and same day numbers when it first premiered, but it grew to have 2.6 million across all of HBO's various viewing methods. However, the problem was that it didn't grow to the kind of success that shows like Silicon Valley, Girls and Veep have found.
Jay Duplass, Mark Duplass and Steve Zissis took to Twitter with this statement expressing their gratitude towards those who have tuned in to the show:
— Mark Duplass (@MarkDuplass) March 25, 2016
For those who don't know, Togetherness followed the trials and tribulations of a married man (Mark Duplass), his best friend (Steve Zissis), his wife (Melanie Lynskey) and her sister (Amanda Peet) as they worked their way through middle age life in Los Angeles. It was simple but never boring, well-acted, with some great writing and true-to-life drama. It's better than any sitcom on network television and deserves so much more time on the air.
It's not clear if there's any chance of a place like Netflix or Hulu rescuing Togetherness, but as a fan of the show that would be wonderful to see. It doesn't quite have the cult following of resurrected shows such as Community, but anything is possible in today's TV landscape.
Togetherness has three more episodes to air with the series finale airing on April 10th. Here's hoping it doesn't end on some kind of cliffhanger that doesn't get resolved.