New 'Game Of Thrones' Season 6 Images Tease A Rough Road Ahead For Just About Everybody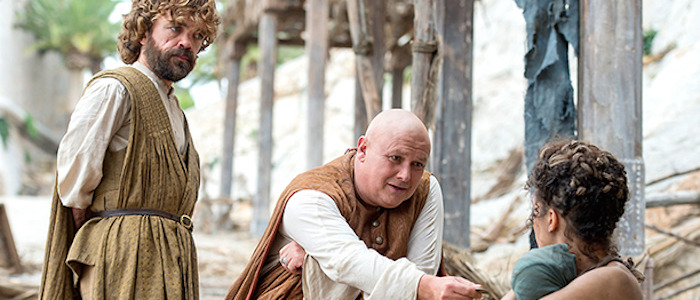 Game of Thrones season 6 is officially less than a month away and you don't need the show's creators telling you that this is the best season yet to get excited. The promise of more Game of Thrones should be enough all by itself. And while fans are excited to watch that gigantic battle sequence and collect their winnings after betting that Jon Snow would come back from the dead, a batch of new images remind us what's really important: the show's sprawling cast and characters we love. And their hopeless, completely screwed-up lives.
The images premiered over at Entertainment Weekly and their slideshow provides a few pieces of interesting trivia for those who like to keep such things in their back pockets (like how Maisie Williams chose to wear painful contact lenses rather than have her eyes blinded by CGI). But for our purposes here, I'm going to run down each of these images based on just how horrible each of their predicaments truly is.
The least screwed of the bunch is Bran Stark (Isaac Hempstead-Wright), seen hanging out with the mystical Three-Eyed Raven (now played by the legendary Max Von Sydow). Sure, he may be in the frozen and deadly depths of the north, but at least he's living in a magical tree with his powerful mentor. That's got to count for something.
Slightly more screwed is Jaime Lannister (Nikolaj Coster-Waldau), who is fleeing the worst plot line in Game of Thrones history with the dead body of his daughter in tow. But while the awful, awful Dorne storyline is behind him, he's returning to a King's Landing where his sister/lover is at war with the Faith Militant and the power structure of the entire kingdom is falling apart.
Still, he's not quite as screwed as Tyrion (Peter Dinklage) and Varys (Conleth Hill), who have been tasked with keeping the trains running on time in Meereen now that Daenerys has gone missing. How do a drunk and a eunuch rule a city where they don't understand the culture or language? We'll soon find out.
Still, they don't have it as bad as Arya (Williams), who was blinded by her teacher at assassin school and must now wander Essos without the use of her eyes. Then again, maybe a little blindness is necessary for her to reach the next level in her plan to become a master killer.
But Daenerys (Emilia Clarke)? She's really screwed. The Mother of Dragons is now being held captive by a Dothraki horde. That speaks for itself.
Still, everyone is having a picnic compared to Sansa Stark (Sophie Turner) and Theon Greyjoy (Alfie Allen), who are fleeing Winterfell and the aggressive, torture-happy Ramsay Bolton in the middle of a region dominated by their enemies. And winter is coming, of course.
Game of Thrones season 6 is set to premiere on April 24, 2016. You can peruse all of the images in the gallery below. For more information and trivia and tidbits, you can click the link above and check out Entertainment Weekly's slideshow.