New 'Valerian And The City Of A Thousand Planets' Images Confirm That Yep, This Is Definitely A Luc Besson Movie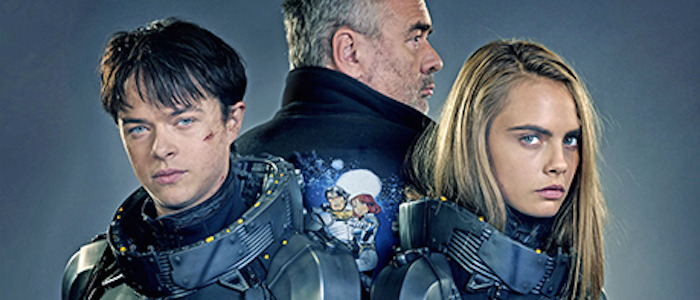 Luc Besson has only directed two movies that can be considered full-on science fiction, but they're doozies. What Lucy lacks in brains, it more than makes up for in style and total insanity. And The Fifth Element is, of course, one of the wildest exercises in genre imagination to emerge from the '90s. Besson has made good films and bad films, but there's a playful silliness and enthusiasm to his work that can't be denied.
So when the first image from Valerian and the City of a Thousand Planets arrived yesterday, I took one look at Dane DeHaan and Cara Delevingne in their wacky sci-fi costumes and thought "Yep, this is most definitely a Luc Besson movie." Now, a new batch of images from this upcoming sci-fi adventure have popped on online and they seem to confirm that this will be the Besson-iest Luc Besson movie in quite some time.
The images debuted over at Entertainment Weekly, who also scored an interview with Besson. It turns out that the director is a huge fan of Valérian and Laureline, Pierre Christin and Jean-Claude Mézieres' comic series that serves as source material for the film, and he's been reading it since he was a kid:
Well, the system at the time was two pages a week. As kids we were so excited. Can you imagine today? We can't even wait two seconds for the next thing. I was sci-fi which was pretty rare in the early '70s. And it was a guy and a girl, and there weren't many female heroines at the time. So the first girl I fall in love with, when I was 10, was Laureline. She's a tough cookie. And she doesn't say "Yes, yes, yes" to Valerian all the time. I loved that about her.
For those unfamiliar with these characters (which includes yours truly), DeHaan plays Valerian and Delevingne plays Laureline, two human agents who solve crimes and embark on adventures all across the galaxy. Although Besson says that he's wanted to make this movie for years, a visit to the set of James Cameron's Avatar inspired him to up the ante on his vision for this film:
I allowed myself much more freedom. I centered the story to make it more real, more human. If you don't like sci-fi, I want you to still like Valerian. And the other part was: Let's try to do everything, before someone tells me its impossible. Let's have the imagination go to the limit. And let's be so super complicated, with aliens and robots and all this, but to make it look easy like a dance. You watch the thing, and it's fluid and funny and wild. It's not deep and complicated. It's ultra sophisticated to do, but it looks easy. Like a cocktail where you don't even taste the alcohol.
When Entertainment Weekly asks about the film's impressive supporting cast, which includes John Goodman, Clive Owen, Ethan Hawke, and Rihanna, Besson refused to comment on whether any of them will turn out to be the film's villain. It seems that Valerian and the City of a Thousand Planets is going to be a proper cop movie and revolve around a mystery:
I can't tell you that. The big difference between this and the Marvel pattern is that with Marvel you know after five minutes who's the villain. They do films that are super well made, but this pattern bothered me a little bit. What's new here is we have two agents, and over the course of one film, it's a police investigation, in fact. So you don't know who's exactly bad until the end, because it's an investigation. That's why I can't talk too much. But it's a real story. That's what I love about it.
If you want to know more (and it's very good interview), make sure you hit the link above. Otherwise, you can peruse the gallery of images below, which show off DeHaan's wacky armor, the main duo in some garish civilian clothing, a gift (and seemingly practical!) robot police officer, and a behind-the-scenes shot of Delevingne on set.
Valerian and the City of a Thousand Planets is set to arrive in theaters on July 21, 2017.