'Brooklyn Nine-Nine' And 'Last Man On Earth' Renewed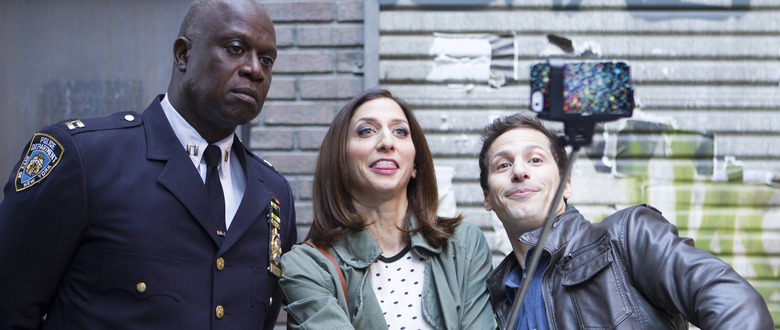 It's way too early to make any real predictions about the 2016-2017 television season, but if you're a Fox viewer you may already have a pretty good idea of what you'll be watching. Following an early renewal for its Batman prequel drama Gotham, the network has also ordered additional seasons of its returning sitcoms Brooklyn Nine-Nine and The Last Man on Earth. 
The renewal brings Brooklyn Nine-Nine to four seasons and The Last Man on Earth to three. During the current season, when Fox has struggled to launch new live-action comedies, both veteran series have been solid (though not spectacular) performers. According to Variety, Last Man on Earth is the network's highest-rated live-action comedy and Brooklyn Nine-Nine isn't too far behind.
Fox issued a warm but bland statement to go with the news (via TVLine). Said David Madden, entertainment president of Fox:
We're so proud of these comedies. Each has its own unique voice, but they both boast terrific ensembles with stand-out characters and, of course, phenomenal writing, which are the hallmarks of all great comedies. We'd like to thank the executive producers, casts and crews of Brooklyn Nine-Nine and The Last Man on Earth for their tremendous work this season, and look forward to what's in store next year.
Brooklyn Nine-Nine and The Last Man on Earth follow Gotham, Empire, Scream Queens, and Bones in snagging early renewals. Returning series New Girl is also expected to get a renewal, but word is the deal is still being worked out.
The fates of Fox's freshman comedies – Grandfathered, The Grinder, and Cooper Barrett's Guide to Surviving Life — remain up in the air. Of the three, Grandfathered has done the best in the ratings and stands a decent chance of returning. The Grinder's fate is less certain, though it has critical acclaim working in its favor. Also still waiting for pickups are the dramas Rosewood, Lucifer, and Sleepy Hollow.