Ready Yet? Get Set, It's 'All That': Reunion Special Coming To The Splat On TeenNick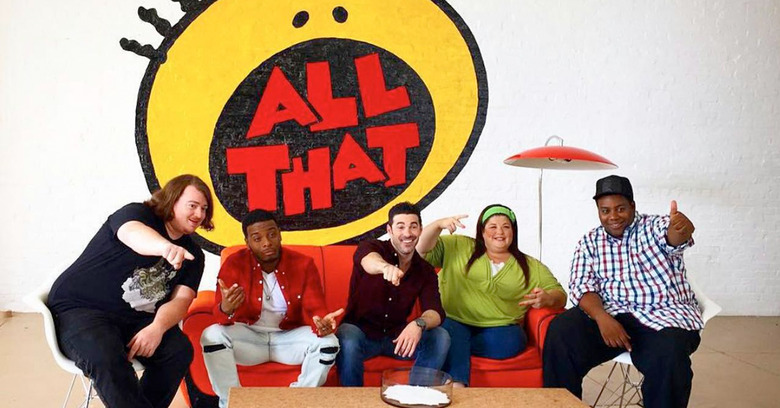 Nickelodeon has really been doubling down on their nostalgia for the '90s lately. Last year they introduced the programming block called The Splat that brought favorite cartoons such as Rugrats and Hey Arnold! to TeenNick as well as live-action shows like Are You Afraid of the Dark? and Clarissa Explains It All. There's a live-action/animated hybrid NickToons movie in the works at Paramount Pictures. And this year they announced a TV movie adaptation of their game show Legends of the Hidden Temple. Now a reunion of one of Nickelodeon's favorite comedy series is in the works.
All That was the kid version of Saturday Night Live back in the '90s, except it was recorded instead of done live. The series consisted of a batch of comedy sketches featuring the likes of future stars such as Kenan Thompson (who is currently on SNL), Amanda Bynes (who has sadly gone off the deep end a bit), Jamie Lynn Spears (younger sister of Britney Spears) and Nick Cannon. And now there will be an All That reunion special coming to The Splat.
EW reveals the All That reunion special will debut in April, and this teaser debuted from The Splat:
As you can see, the above teaser features original All That cast members Thompson, Kel Mitchell (who has a new show on Nickelodeon called Game Shakers), Josh Server and Lori Beth Denberg along with later addition Danny Tamberelli, the young star from Nickelodeon's quirky comedy series The Adventures of Pete & Pete. Hopefully they're not the only stars of the show who will becoming back, but that appears to be the case.
Beyond this announcement and these five cast members, we don't have all the details of the All That reunion special will entail. But TMZ says that unfortunately there will not be any new sketches created for the show. Instead, the special will merely replay sketches from old episodes with commentary provided in between from the cast members. That sounds enjoyable enough, but what kid of the '90s doesn't want to see the return of Repairman, Superdude, Ask Ashley or chocolate chefs Randy and Mandy?
At the very least, this will be a fun trip down memory lane, both for the stars of the show and those who enjoyed watching it. I have fond memories of enjoying a new episode of All That on Nickelodeon's Saturday night Snick line-up along with countless reruns that played the rest of the week, so I'll definitely be looking forward to seeing what this reunion has to offer.
In the meantime, if you need an All That fix right now, check out this Good Burger 20th anniversary reunion sketch with Kenan Thompson and Kel Mitchell that happened on The Tonight Show with Jimmy Fallon last fall.