'War Dogs' Trailer: Miles Teller And Jonah Hill Run Some Guns For Todd Phillips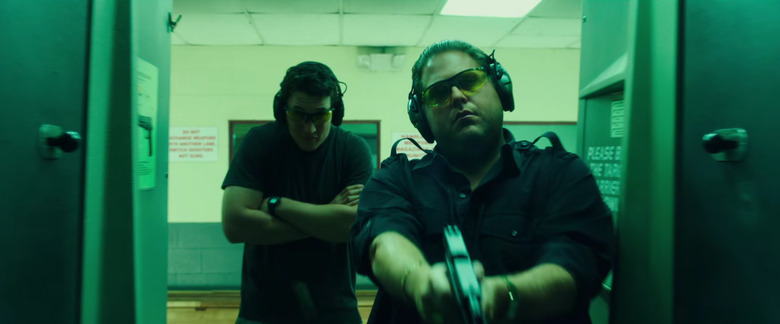 Miles Teller's had a bit of bad luck lately. Fantastic Four was an epic flop, The Divergent Series: Allegiant inspired thinkpieces about the death of YA, and the long-delayed Get a Job looks poised to sink without a trace this weekend. Fortunately, his next new film looks like it could get him back on the right track.
Directed by Todd Phillips (The Hangover), War Dogs stars Teller and Jonah Hill as two 20something stoners who score a $30 million contract from the U.S. government to arm the Afghan military. Which sounds kind of far-fetched, except that War Dogs is based on an all-too-true story. The first War Dogs trailer has just hit, and you can check it out after the jump. 
War Dogs Trailer
If this film seems to come out of nowhere, perhaps it's because it wasn't called War Dogs when we reported on it last — it was originally titled Arms and the Dudes. The new title is a tad more generic, but it's easier to say and more effective at conveying what the film is actually about. War Dogs is based on a 2011 Rolling Stone article by Guy Lawson, and has a script written by Phillips, Stephen Chin, and Jason Smilovic. Phillips is better known for comedies like Old School and the Hangover trilogy, but based on the trailer, it appears War Dogs allows him to play to his strengths while branching into new territory. His bro-y sensibility and dark, slightly twisted sense of humor seem to be put to good use in this bro-y, dark, twisted tale.
War Dogs opens August 19.
Based on a true story, "War Dogs" follows two friends in their early 20s (Hill and Teller) living in Miami Beach during the Iraq War who exploit a little-known government initiative that allows small businesses to bid on U.S. Military contracts. Starting small, they begin raking in big money and are living the high life. But the pair gets in over their heads when they land a 300 million dollar deal to arm the Afghan Military—a deal that puts them in business with some very shady people, not the least of which turns out to be the U.S. Government.