'Animal Kingdom' TV Series Trailer: Cupcakes And Lives Are Going To Get Ruined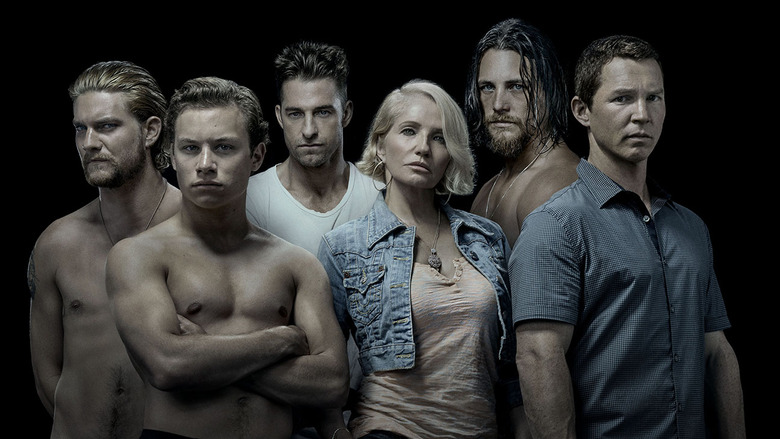 Animal Kingdom was one of the breakout debut films of 2010. Director David Michôd's intimate crime thriller not only created future opportunities for himself, but also his cast, which included Joel Edgerton, Jacki Weaver, Ben Mendelsohn, and more. It's an excellent drama, one that's now being adapted for television.
Below, watch the Animal Kingdom TV series trailer.
Back in 2011, Showtime was developing the Animal Kingdom series, but the drama ended up finding its home at TNT. The story once again follows "Smurf" Cody (played here by Ellen Barkin) and her family of gangsters, and the set up (a kid goes to live with his criminal family) and the archetypes (the overbearing mother and deeply damaged uncle) remain close to Michôd's original film, but you can see in the trailer where the television series departs from the Australian drama.
Here's the Animal Kingdom trailer (via TV Line):
The television series does create an opportunity to further explore the Cody family. Michôd's film looks more like a springboard in this instance — the TV series is using familiar plot elements to take the story in a slightly different direction. Recently, showrunner Jonathan Lisco told us how the director is involved in the series:
David Michôd and [producer] Liz Watts are involved in this TV show. I think David would say the inspiration for the movie came from the Pettingill family, an Australian crime family. They're a little over the top. I believe the matriarch of that family wound up with a glass eye. She got shot through the doorway by an adversary. I think the material is an example of truth being a little stranger than fiction and she wound up being a mustache-twirly villain. We're portraying a mother who infantilizes her sons, warps them while [she] infantilizes them.
One character who isn't a part of the series is Detective Senior Sergeant Nathan Leckie, played by Guy Pearce in the original film. Leckie was the moral compass of the story, but Lisco says law enforcement doesn't play a major part of the series, at least not in season one. The show focuses more on the family dynamic than their crimes.
Some of this new cast has some rather large shoes to fill, but based on the trailer, they're making their own, slightly glossier version of Animal Kingdom. Barkin, in particular, looks well cast as Smurf Cody, a woman that just wants to bake cookies and keep her family of criminals happy.
TNT's Animal Kingdom, which is executive produced by John Wells (ER, Burnt), will premiere on June 7th.