'Last Days In The Desert' Trailer: Ewan McGregor Is Jesus And The Devil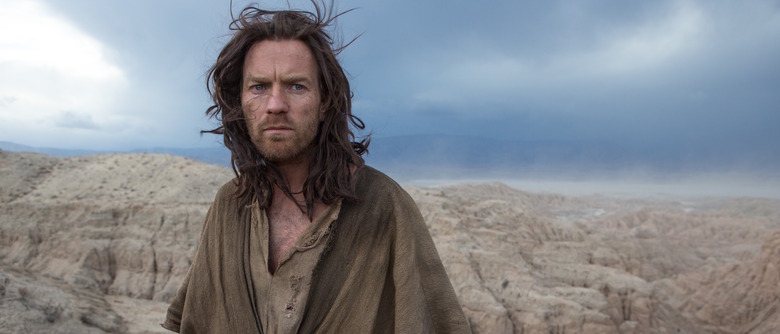 Ewan McGregor's already had one movie out this year, the little-seen Jane Got a Gun, and he's got another out next weekend, the Miles Davis biopic Miles Ahead. But if you still can't get enough of the Scottish actor, you may want to keep an eye out for Rodrigo Garcia's Last Days in the Desert. The drama stars not one but two Ewan McGregors, going head-to-head as both Jesus and Satan. It's not a trick every actor can pull off, but we have faith in McGregor to make it work.
It helps that he's got some other great talents backing him up, including Ciarán Hinds, Ayelet Zurer, and Tye Sheridan as a family who encounter the "holy man" in the middle of nowhere. And making everyone and everything look austerely beautiful is cinematographer Emmanuel Lubezki, who just picked up an unprecedented third consecutive Oscar win for The Revenant. Check out the Last Days in the Desert trailer after the jump. 
Watch at Apple or click play on the embed below via Movieclips.
Last Days in the Desert premiered at the 2015 Sundance Film Festival to mostly warm reviews. "All four lead actors are absolutely wonderful in the film," wrote Germain Lussier for /Film last year. "Not surprisingly, the film's best scenes are when McGregor is talking to himself. Just Jesus and Satan, trading wits." Last Days in the Desert might not be for everyone – it's meditative and slow, and every viewer will bring their own personal beliefs about God and religion to the theater. But for those willing to sit back and keep an open mind, it looks like a thoughtful and empathetic portrait of Jesus Christ not as an untouchable divinity, but as a man with his own demons to wrestle.
Broad Green Pictures has Last Days in the Desert in theaters on May 13, 2016.
Last Days in the Desert follows Jesus (Ewan McGregor) in an imagined chapter from his forty days of fasting and praying in the desert. On his way out of the wilderness, he struggles with the Devil, also played by McGregor, over the fate of an ordinary family in crisis, setting for himself a dramatic test with distinctly human conflicts.