New 'Wonder Woman' Image Reveals Robin Wright, Connie Nielsen, And Lisa Loven Kongsli As Amazon Warriors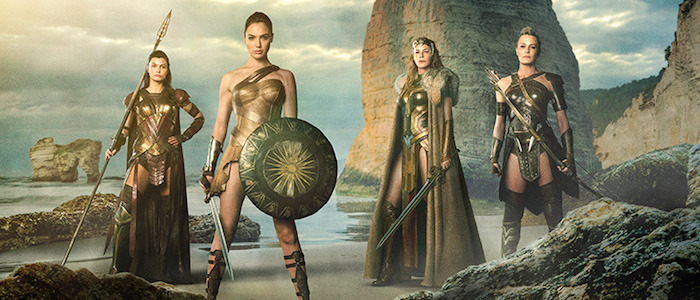 The reviews for Batman v Superman: Dawn of Justice have been generally negative, but almost everyone seems to agree that Gal Gadot's Wonder Woman is one of the strongest parts of the film. While Warner Bros. is undoubtedly sweating the not-so-nice press, this reaction must give them a momentary respite – at least people will still be interested in this character's solo movie when it arrives next year.
And right on cue, a new photo from Patty Jenkins' Wonder Woman movie has arrived, offering us a new look at Gadot (wearing some very different armor) as well as first looks at Robin Wright, Connie Nielsen, and Lisa Loven Kongsli as the warrior women who train her how to be a total badass.
The image was revealed over at Entertainment Weekly and it comes packaged with a bunch of new details. Nielsen is Queen Hippolyta, mother to Diana (a.k.a. Wonder Woman) and ruler of Themyscira, an island populated by immortal female warriors. Wright is General Antiope, Diana's aunt who prepares her for the world beyond Themyscira while her mother wants to shelter her. Kongsli is Menalippe, Antiope's lieutenant who also has a hand in raising the young superhero-to-be.
Speaking with EW, Jenkins says that one of her main goals with designing the Amazons' armor was making it "appealing to women." Stepping ahead of any potential criticism (a few of the ladies appear to be wearing high heels), Jenkins says:
It's total wish-fulfillment. I, as a woman, want Wonder Woman to be hot as hell, fight badass, and look great at the same time—the same way men want Superman to have huge pecs and an impractically big body. That makes them feel like the hero they want to be. And my hero, in my head, has really long legs.
These badass women are the highlight of the image, but it also offers our first look at Themyscira, which was created by shooting on "exotic coasts" in Italy and Southern China. Says producer Charles Roven:
Themyscira is influenced by the Greek but it's clearly more then that. It's a place that has the 'you've never been to' kind of feel. But once you're there you're not so sure you really want to leave so fast.
And here's the full image, in case you want to examine every little detail. Personally, I like what I see. The costumes are certainly stylized (certain aspects of the armor are going to make some folks roll their eyes), but they certainly look like they belong to an all-female comic book civilization that is built around transforming women into brave warriors. Plus, any movie that arms Robin Wright with a bladed weapon is a-okay.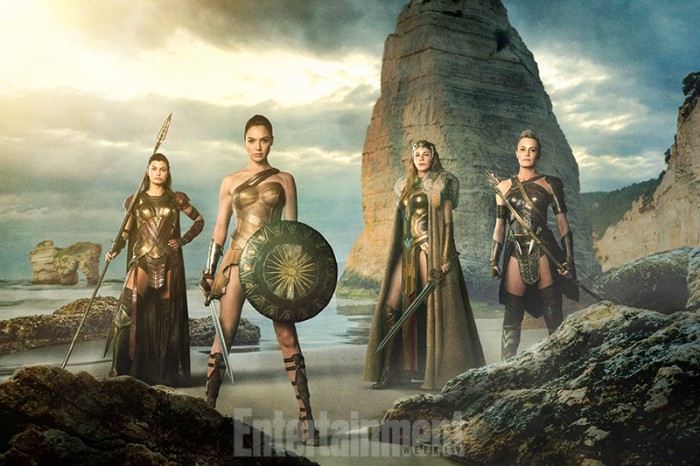 Wonder Woman will open on June 23, 2017.