'S.H.I.E.L.D.' Spinoff 'Marvel's Most Wanted' Adds Two More; Exec Producer Talks Tone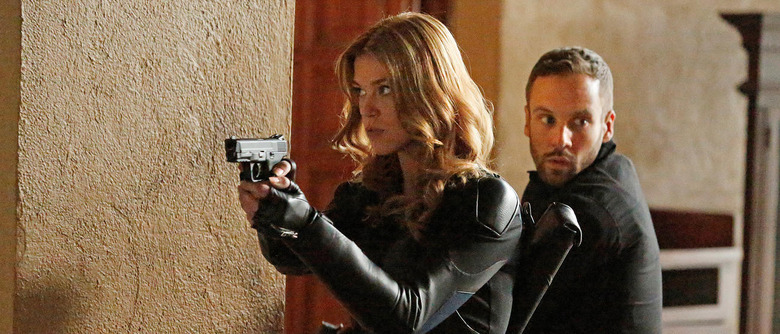 Sure, the MCU already has Agents of S.H.I.E.L.D., Agent Carter, Daredevil, and Jessica Jones, with Luke Cage, Iron Fist, and The Defenders still to come. But if you're looking for yet another Marvel series to sink your teeth into, you're in luck — ABC is currently working on Marvel's Most Wanted, which will follow the further adventures of Bobbi Morse (Adrianne Palicki) and Lance Hunter (Nick Blood).
The network gave the S.H.I.E.L.D. spinoff an official pilot order last year, and over the past couple of months we've seen the project gradually start to come together, with last night's episode of Agents of S.H.I.E.L.D. setting up the premise of the new series. Today, we've got a couple of casting updates, a first look at the new logo, and many interesting comments from executive producer Jeff Bell about the tone and concept of Marvel's Most Wanted. 
SpoilerTV reports actors Oded Fehr (The Mummy) and Fernanda Andrade (The Devil Inside) are on board for Marvel's Most Wanted. The casting hasn't officially been announced by ABC or Marvel Studios, and we haven't seen any other major outlets report the story yet, so we'd caution you to take the news with a grain of salt. But just a little one, because the site has a pretty decent track record. There are no details yet about whom Fehr and Andrade will be playing, but they join a growing cast that also includes Palicki, Hunter, and Delroy Lindo.
SpoilerTV also got the first key art for Marvel's Most Wanted, though they caution it's still subject to change — this might not be the final logo.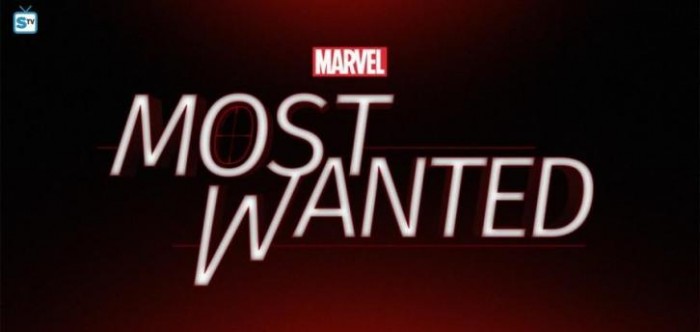 Yup, looks like a logo all right.
Moving on, Entertainment Weekly sat down with Bell to get the inside scoop on last night's Agents of S.H.I.E.L.D. episode, which paved the way for Marvel's Most Wanted. Spoilers for last night's episode of Agents of S.H.I.E.L.D. follow from here on out, so if you're not caught up, please return when you are. (Unless you don't care about spoilers. In that case, you do you.)
In last night's episode, Bobbi and Lance left S.H.I.E.L.D. Due to a series of events we won't get into here, they end up disavowed by the organization and barred from working as agents ever again. But if you've been keeping up with TV news, you probably already know they'll pop up again in the Marvel's Most Wanted pilot, where they'll be on the run with a bounty on their heads. Bell explained why it was important to have the characters definitively cut ties with S.H.I.E.L.D.
Part of what we're hoping to do with Bobbi and Hunter in the new show is to stake out some new territory and not make it a S.H.I.E.L.D. show. It is not a S.H.I.E.L.D. show. It is not a S.H.I.E.L.D. spin-off. It's a show about these two characters living their life and the adventures that they have together. If the door was too wide open, I think it begs too many questions of, "Well, why don't they call Coulson every week for this?" "Why didn't these people come in?" Not that we can't hopefully find ways to tie things together, but you didn't want to leave it with such a wide open door that it was a separate branch of S.H.I.E.L.D. doing other S.H.I.E.L.D. stuff, that would ask you why these other characters weren't involved in the day-to-day episodes.
Leaving aside the fact that that is basically the definition of a spinoff, no matter what Bell says, it makes sense for the franchise to give Marvel's Most Wanted some breathing room to come into its own. The new series will have its own distinct tone, too.
We're trying to find our little corner of the sky. The Netflix shows have a certain feel and tone, Agent Carter had a certain feel and tone, andS.H.I.E.L.D. does, too. This is a show, at its heart, about a relationship. It's about a man and a woman who love each other, who fight, who've been married, who got divorced, who are still together, and they also happen to be ex-spies who can kick ass. We're looking to find a separate world for them in this larger universe, if that makes sense. Hopefully, tonally, you'll look at it and it will have its own vibe.
Marvel Studios has done a pretty good job so far of setting a certain tone for its universe, while also giving the individual properties enough wiggle room to establish themselves. An Iron Man movie feels different from a Captain America movie feels different from a Thor movie, but there are enough similarities between them that it's not weird when they come together for the Avengers adventures.
That said, the franchise seems to have had better luck with its Netflix outings and its big-screen productions than it has its ABC shows. S.H.I.E.L.D. doesn't get nearly the fawning adoration that Daredevil or Jessica Jones does, and Agent Carter has always struggled in the ratings. Hopefully Marvel's Most Wanted can do something to brighten up that particular corner of the MCU.
Here's the synopsis for Marvel's Most Wanted:
Centers on Bobbi Morse (a.k.a. Mockingbird) and Lance Hunter of "Marvel's Agents of S.H.I.E.L.D., two ex-spies and ex-spouses who are on the run with no friends, no S.H.I.E.L.D. and a long list of enemies looking to claim a bounty on their heads. Able to trust no one but each other, Bobbi and Hunter form an uneasy alliance with Dominic Fortune, a rogue adventurer with a wealth of resources and even more adversaries, who agrees to protect them so long as they help him with his own agenda. These two heroes will help anyone in need, all while trying to uncover the conspiracy that put their own lives in jeopardy.