'The Jungle Book' Clip: What's That Strange Odor?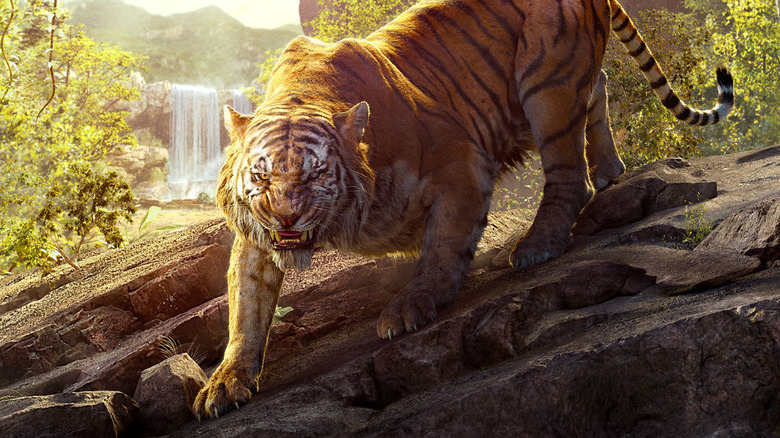 Last year, Disney really got their whole reimagining game down. While Alice in Wonderland and Maleficent were box office hits, neither quite captured the spirit or the appeal of the original animated films. Kenneth Branagh, however, accomplished just that recently with his lovely Cinderella remake. Next at bat to reimagine another Disney classic is director Jon Favreau.
Following up his charming drama Chef, Favreau returns to big studio filmmaking with The Jungle Book. Watch a clip from the film below.
As Peter reported a few months back, 99% of the animals and environments in The Jungle Book are CGI. Favreau shot the film in a studio in downtown Los Angeles. Mowgli (Neel Sethi) is the only live-action character, but that's not the first thing you think of when you watch this The Jungle Book clip.
While the CG-heavy environments were somewhat off-putting in Maleficent and Alice in Wonderland, that doesn't seem to be the case here. While those two films existed in the uncanny valley, the CG environments and characters in this The Jungle Book clip are believable.
Take a look for yourself:
It's hard to think about all that CGI while watching this clip, partly because it presents a tangible environment, but mostly because of Idris Elba. Elba has such a commanding voice and presence, and you can still feel it in this scene. The Luther star appears perfectly cast as Shere Khan.
There's a real sense of danger in this clip — and comedy ("Mowgli? They've given it a name?") — which is always refreshing to see from a kids movie. While some filmmakers like to treat younger viewers with kid gloves, based on this clip and the trailers, Favreau seems to trust young moviegoers to not be too frightened by Khan or Mowgli's dangerous journey.
Here's the official synopsis for The Jungle Book:
Directed by Jon Favreau ("Iron Man"), based on Rudyard Kipling's timeless stories and inspired by Disney's classic animated film, "The Jungle Book" is an all-new live-action epic adventure about Mowgli (newcomer Neel Sethi), a man-cub who's been raised by a family of wolves. But Mowgli finds he is no longer welcome in the jungle when fearsome tiger Shere Khan (voice of Idris Elba), who bears the scars of Man, promises to eliminate what he sees as a threat. Urged to abandon the only home he's ever known, Mowgli embarks on a captivating journey of selfdiscovery, guided by panther-turned-stern mentor Bagheera (voice of Ben Kingsley), and the free-spirited bear Baloo (voice of Bill Murray). Along the way, Mowgli encounters jungle creatures who don't exactly have his best interests at heart, including Kaa (voice of Scarlett Johansson), a python whose seductive voice and gaze hypnotizes the man-cub, and the smooth-talking King Louie (voice of Christopher Walken), who tries to coerce Mowgli into giving up the secret to the elusive and deadly red flower: fire.
The all-star cast also includes Lupita Nyong'o as the voice of the fiercely protective mother wolf Raksha, and Giancarlo Esposito as the voice of wolf pack's alpha male Akela. "The Jungle Book" seamlessly blends live-action with photorealistic CGI animals and environments, using up-to-the-minute technology and storytelling techniques to immerse audiences in an enchanting and lush world. The wild adventure swings into theaters in 3D on April 15, 2016.
The Jungle Book opens in theaters April 15th.