'Love & Friendship' Trailer: Whit Stillman Turns Kate Beckinsale Into A Jane Austen Heroine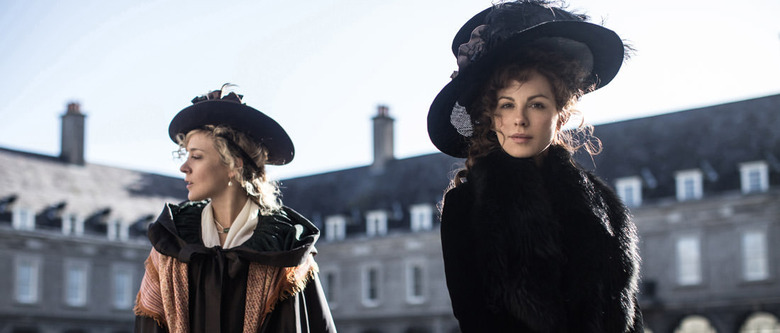 No one has a better eye for the elaborate rituals and complicated dynamics of privileged society than Whit Stillman — no one, that is, except perhaps Jane Austen. Love & Friendship is Stillman's first time adapting the iconic writer's work for the big screen, but it's a combination that feels inevitable in retrospect. And having caught the film at this year's Sundance Film Festival, I can attest that Stillman's take on Austen is every bit as sharp and funny as you'd hope.
Kate Beckinsale is in peak form as Lady Susan Vernon, a social-climbing widow whose charm is exceeded only by her ruthlessness. She spends the film plotting to maintain or elevate her status in society, by way of favorable marriage matches for both herself and her naive daughter Frederica (Morfydd Clark). Chloë Sevigny plays Susan's best friend. Watch the first Love & Friendship trailer after the jump.
IMDb unveiled the first Love & Friendship trailer.
The most surprising thing about Love & Friendship, at least to me, was that it wasn't just what I call "New Yorker cartoon funny" – the kind of funny that elicits a wry smile or at most a low chuckle. It's laugh-out-loud funny, thanks in a large part to Tom Bennett's brilliantly dim performance as Frederica's would-be suitor Sir James Martin. (He's the fellow inquiring about green peas and the pronunciation of "Churchill" in the trailer above.) Humor is subjective and your mileage may vary and all that, but I can say that I personally was gasping with laughter at some of his scenes.
Lady Susan herself, meanwhile, seems destined to enter the pop culture canon of great mean girls. She combines Regina George's unflappable confidence, the Dowager Countess' acerbic wit, and Cersei Lannister's talent for manipulation, except she gets better, and funnier, lines than any of them. She might just be Beckinsale's best role ever. If you still need more convincing, you can read my full Sundance review here.
Love & Friendship arrives in theaters May 13.
Set in the opulent drawing rooms of eighteenth-century English society, Love & Friendship focuses on the machinations of a beautiful widow, Lady Susan Vernon (Kate Beckinsale), who, while waiting for social chatter about a personal indiscretion to pass, takes up temporary residence at her in-laws' estate. While there, the intelligent, flirtatious, and amusingly egotistical Lady Vernon is determined to be a matchmaker for her daughter Frederica—and herself too, naturally. She enlists the assistance of her old friend Alicia (Chloë Sevigny), but two particularly handsome suitors (Xavier Samuel and Tom Bennett) complicate her orchestrations.
Adapting Jane Austen's unpublished early novella Lady Susan, Whit Stillman returns to the Sundance Film Festival (where his Metropolitan premiered in 1990) in top form with his latest comedy of manners. Kate Beckinsale excels in her role as the deliciously devious Lady Vernon and delivers each line with relish. With exquisite period detail and a script teeming with bon mots and witty dialogue, Love & Friendship is a rare—and rarified—treat.