Netflix's 'Special Correspondents' Trailer: Ricky Gervais Needs To Grow A Pair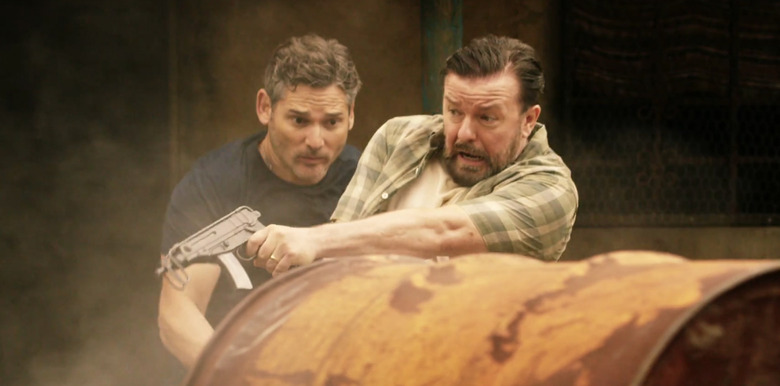 After making a comfortable home at Netflix for his series Derek, British comedian Ricky Gervais is bringing an original comedy feature to the streaming service with Special Correspondents. In what feels like a Tropic Thunder meets Wag the Dog kind of story, Gervais plays a sound engineer who teams up with a radio journalist (Eric Bana) to fake a report from the front line of a war in Ecuador. But when they're believed to be missing in the country, they end up having to actually go to Ecuador so their deception isn't discovered.
The first Special Correspondents trailer has arrived, and while it doesn't seem quite as hilarious as I was hoping, there are a few laughs to be had. Watch it below.
Here's the first Special Correspondents trailer straight from Netflix:
As someone who thinks both Ghost Town and The Invention of Lying, the latter of which was written and directed by Gervais, are sorely underrated, I'm absolutely excited to see what the comedian does with his first Netflix original movie, where he doesn't have to worry about holding back. Plus, bringing Bana back to comedy after his entertaining turn in Funny People is a promising idea. But there aren't any major laughs in this trailer, just a few chuckles.
In addition to Gervais and Bana in the lead, the rest of the cast includes Kelly Macdonald (Boardwalk Empire), Vera Farmiga (The Departed), Kevin Pollak (The Usual Suspects), America Ferrera (Ugly Betty), Raúl Castillo (Cold Weather), and Benjamin Bratt (Modern Family). Part of me wishes there was some more straight-up comedic talent on board, but seeing some of the actors take on a comedy with Gervais also has some appeal.
At the very least, it's good to have a movie like this able to find an audience, because this feels like the kind of comedy that otherwise might not get any interest for a studio. Here's hoping the movie actually brings some big laughs to Netflix.
'Special Correspondents', a new Netflix original feature film, was written and directed by Ricky Gervais and stars Eric Bana (Deliver Us From Evil, Lone Survivor) and Gervais (Muppets Most Wanted, Derek). The film is about a struggling New York based radio journalist whose arrogance and decadent lifestyle has hindered his career. With his job on the line, he fakes front line war reports from the comfort of his hideout above a Spanish restaurant in Queens.
Special Correspondents hits Netflix exclusively on April 29.