'Deepwater Horizon' Teaser Trailer: Mark Wahlberg And Peter Berg Recreate A Disaster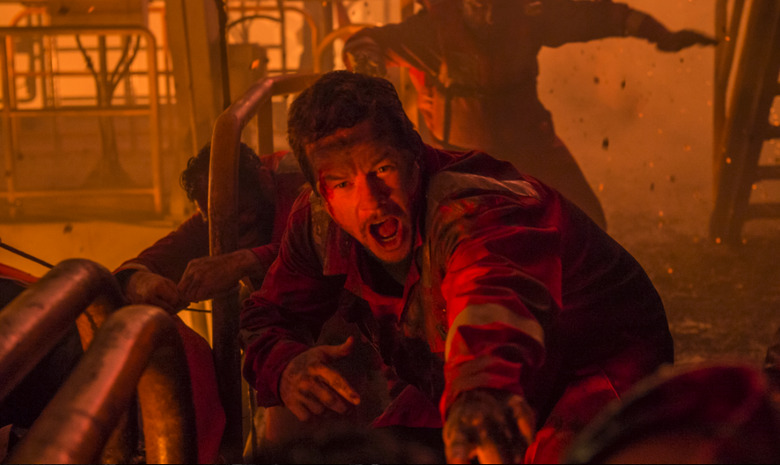 Peter Berg and Mark Wahlberg have a thing for real-life drama. The pair are just coming off of Lone Survivor, an account of a Navy SEAL mission to kill a Taliban leader, and are about to dive into Patriots Day, about the events leading up to and around the Boston Marathon bombing. In between, they have Deepwater Horizon, about one of the worst manmade disasters in history.
In 2010, the Deepwater Horizon oil rig exploded near the coast of Louisiana, springing a leak that would flow for another 87 days (making it the largest offshore oil spill in U.S. history). Of the 126 crew members on board at the time, 11 were killed and another 17 were injured. Berg's film follows the courageous men and women who tried to prevent the disaster, and then, when the worst happened anyway, valiantly worked to save their colleagues. Watch the first Deepwater Horizon trailer below. 
Much of the first Deepwater Horizon teaser trailer is devoted to letting a 10-year-old kid explain how, exactly, oil drilling works, and foreshadowing imminent disaster via an exploding can of Coke and loaded lines about how Wahlberg's character "tames the dinosaurs." But there are snippets of more dramatic scenes as well. We see the crew begin to realize something's off — and then the crew run around in terror after the oil rig explodes.
Although this trailer mostly focuses on Wahlberg, who plays the second-in-command, and his wife, played by Kate Hudson, Berg's amassed quite a cast for this one. John Malkovich, Kurt Russell, Gina Rodriguez, and Dylan O'Brien are some of the other familiar faces appearing in the movie.
Deepwater Horizon arrives in theaters September 30.
On April 20th, 2010, the world's largest man-made disaster occurred on the Deepwater Horizon in the Gulf of Mexico. Directed by Peter Berg (Lone Survivor), this story honors the brave men and women whose heroism would save many on board, and change everyone's lives forever.