POTD: See Nick Offerman's Handmade 'Parks And Recreation' Series Finale Gift To The Cast & Crew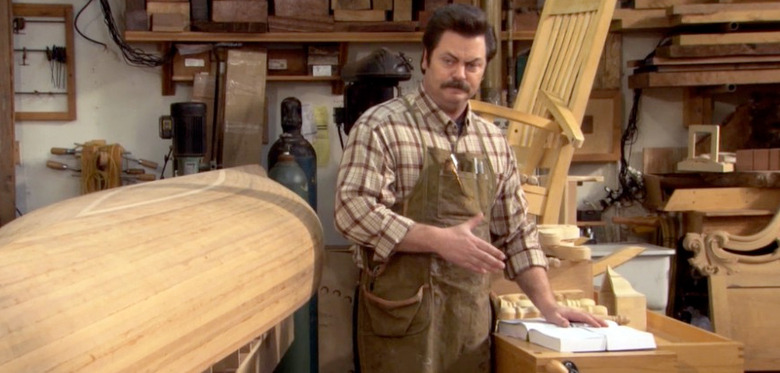 We may receive a commission on purchases made from links.
There are plenty of fans who expect Nick Offerman to be just like his Parks and Recreation character Ron Swanson. And while the two do share some similarities, Offerman is a decidedly warmer person than Swanson, though the latter did show his true feelings from time to time on the show, albeit begrudgingly. But one of the key traits that Offerman shares with his on-screen alter ego is an affinity and fondness for woodworking, and if you don't know just how gifted he is with nature's building material, check out the Parks and Recreation series finale gift that he's just now giving to some of the cast and crew.
Here's what Parks and Recreation co-creator Michael Schur posted to Twitter on Monday (via Vulture):
Nick Offerman salvaged the wood from the Parks and Rec set and made us all canoe paddles with it. World champion. pic.twitter.com/pegpTXk25H

— Ken Tremendous (@KenTremendous) March 21, 2016
As the tweet indicates, that's a handmade canoe paddle made with wood from the set of Parks and Recreation, which obviously doesn't exist anymore. That's rather appropriate considering the comedian's most recent book is called Paddle Your Own Canoe. But this paddle is made even more special by the fact that it has the official Pawnee city seal.
If you want to know more about Offerman's woodworking skills, the official site describes it like this:
Offerman Woodshop is a small collective of woodworkers and makers based out of Nick Offerman's kick-ass wood shop in East Los Angeles.  We focus on hand-crafted, traditional joinery & sustainable slab rescue–working with fallen trees from throughout northern California & our urban LA environment.  We like to carve spoons, chainsaw stumps, plank canoes, keep our chisels sharp with stones, build pinball machines & fine furniture.  From refined modern designs to enormous Middle-Earth masterpieces, we build it all while smiling a lot.
Check out the official site for Offerman Woodshop right here, even though you can't get your own Pawnee canoe paddle.