'The Tick' Will Put Peter Serafinowicz In The Big Blue Suit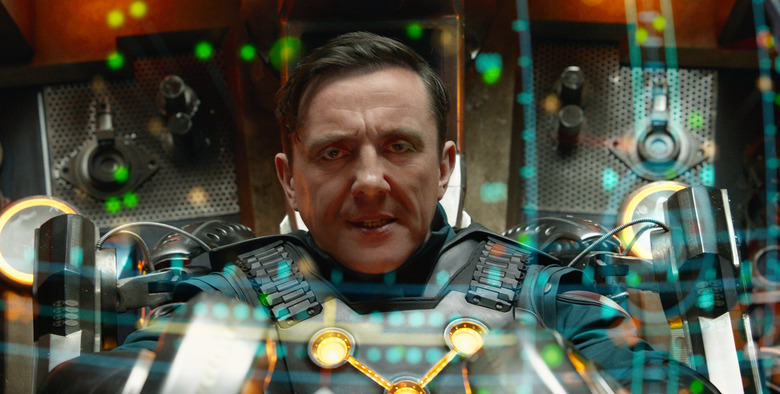 A couple of weeks ago we got the exciting news that Amazon's revival of cult superhero comedy The Tick was on, with an official pilot order and everything. There was just one big catch: Patrick Warburton wouldn't be filling that big blue suit again. Instead, the team involved (including Tick creator Ben Edlund) would go on the hunt for a new lead. And now they've found one in Peter Serafinowicz. 
The British actor and comedian is set to lead the new series, according to TheWrap. The new series sees the Tick suffering memory loss. He re-teams with his sidekick Arthur (Griffin Newman), who's been labeled a schizophrenic due to his implausible-sounding warnings of evil plans to take over the city. The Tick is the only one who believes him. Valorie Curry will play Dot, a nurse and Arthur's caring sister.
It's a departure from the original live-action The Tick series, which followed the Tick, Arthur (played then by David Burke), and their crimefighting pals Captain Liberty (Liz Vassey) and Batmanuel (Nestor Carbonell). The show premiered on Fox in 2001 and was yanked after just nine episodes, but won the praise of critics and has since amassed a devoted cult fanbase. Word got around in 2014 that Amazon was thinking of resurrecting the series, but it wasn't until this month that we had real confirmation.
Amazon's The Tick will be written and produced by Edlund, who created the Tick back in the 1980s and has been behind both the previous live-action series and the 1990s animated series. Serving as executive producers will be Warburton and Barry Josephson, who worked on the earlier live-action show. Wally Pfister (Transcendence) will direct.
Warburton left behind giant shoes to fill. His Tick was an rock-solid bundle of childlike joy, a dim bulb with giant muscles and a pure heart. But as far as replacements go, Serafinowicz seems like a decent choice. He's unquestionably funny and he has plenty of experience with geek properties — among other thing, he's co-starred in Guardians of the Galaxy and Shaun of the Dead and voiced Darth Maul in Star Wars: The Phantom Menace.
The Tick fits right in with the current glut of superhero series, but that might be exactly why we need it now more than ever. At a time when it sometimes feels like superheroes are competing to out-grimdark each other, we could probably use something like The Tick to come in and flip all the usual tropes on their heads. Plus, it's just impossible not to love the Tick and the weird, mundane little world surrounding him.