'The Nice Guys' Trailer: Shane Black Throws Ryan Gosling And Russell Crowe Off The Deep End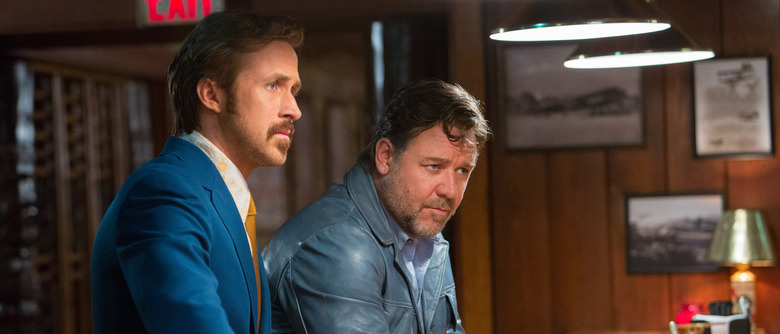 We're as excited as anyone for the long-awaited release of Warner Bros.' Batman v Superman: Dawn of Justice, which pits the two superheroes against each other before bringing them back around to the same side to form the Justice League. (Not a spoiler; it's right there in the title.) But truth be told, we're just as eager to see the studio's other upcoming movie about two heavyweights who start off at odds, only to join forces against a greater evil.
We're talking about Shane Black's The Nice Guys, starring Ryan Gosling as a down-on-his-luck detective and Russell Crowe as a hired enforcer. The mismatched duo get tangled up in a massive conspiracy in 1970s Los Angeles, and soon find themselves more than a little bit out of their element. It's pretty unfortunate for them, but freaking great for us. Watch the new Nice Guys trailer after the jump. 
The first Nice Guys trailer was all about setting a tone, with Mark Ronson and Mystikal's "Feel Good" serving as the jaunty soundtrack. But this one probably does a better job of conveying the film's actual tone: sarcastic, violent, endearingly shaggy, and a little bit goofy. The scene of that adorable moppet trying to hire Jackson Healy (Crowe) to beat up her friend made me crack up. It's honestly hard to believe The Nice Guys is only Black's third feature directing effort — he's managed to establish a very distinct style in a pretty brief time.
The Nice Guys lands in theaters May 20.
"The Nice Guys" takes place in 1970s Los Angeles, when down-on-his-luck private eye Holland March (Gosling) and hired enforcer Jackson Healy (Crowe) must work together to solve the case of a missing girl and the seemingly unrelated death of a porn star. During their investigation, they uncover a shocking conspiracy that reaches up to the highest circles of power.