'Deepwater Horizon' Photos: Mark Wahlberg And Peter Berg Reunite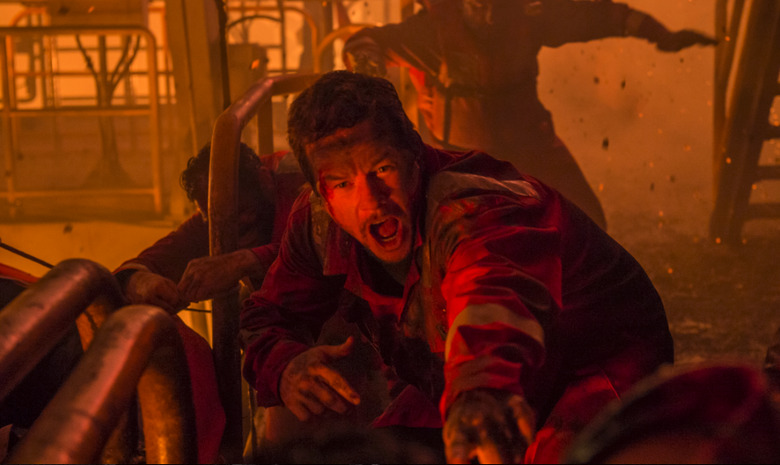 Less than a year after the disastrous BP Oil spill, a film based on the tragic event was already in the works. Back in 2014, director J.C. Chandor was attached to helm Deepwater Horizon. Unfortunately, the A Most Violent Year and Margin Call director walked away from the project, citing "creative differences." Mark Wahlberg was already attached to the film at the time, and following Chandor's departure, the actor might've had a hand in bringing aboard Lone Survivor director, Peter Berg, as his replacement.
Now the film is due out this fall, and today we have our first look. Below, check out a few Deepwater Horizon photos.
Deepwater Horizon is based on a New York Times article written by David Barstow, David Rohde, and Stephanie Saul. "Deepwater Horizon's Final Hour" chronicled how the explosion on a Gulf of Mexico oil rig in 2010 killed 11 people, injured 17 more, and how the largest oil spill in U.S. history lasted 87 days. The adaptation is written by Matthew Michael Carnahan (The Kingdom) and Matthew Sand (Ninja Assassin). We'll see if former director Chandor receives a co-writer credit.
Berg's film begins two days before the event, and will then follow the crew members that attempted to prevent the disaster and save themselves and their fellow crew members. Deepwater Horizon stars Wahlberg, Kurt Russell, John Malkovich, Kate Hudson, Dylan O'Brien, and more.
Here are a few images from Deepwater Horizon:
This isn't the only Mark Wahlberg-led project from director Peter Berg we'll see in the near future. Following up their work on Entourage, Lone Survivor, Ballers, and Deepwater Horizon, the actor and director are also planning on making Mile 22 and Patriots' Day. The latter, which is about the Boston marathon bombing, has already cast John Goodman and J.K. Simmons in supporting roles.
Berg and Wahlberg's collaborations have led to great success, so it's kind of a no-brainer that these two want to keep working together. Audiences embraced their last feature, Lone Survivor, and Lionsgate and Summit Entertainment are most likely hoping for a similar turnout for Berg's upcoming film.
Here's the official logline for Deepwater Horizon:
On April 20th, 2010, the world's largest man-made disaster occurred on the Deepwater Horizon in the Gulf of Mexico. Directed by Peter Berg (Lone Survivor), this story honors the brave men and women whose heroism would save many on board, and change everyone's lives forever.
Deepwater Horizon opens in theaters September 30th.