Harrison Ford Is "Excited" For 'Indiana Jones 5', Serves Up Advice For The Next Han Solo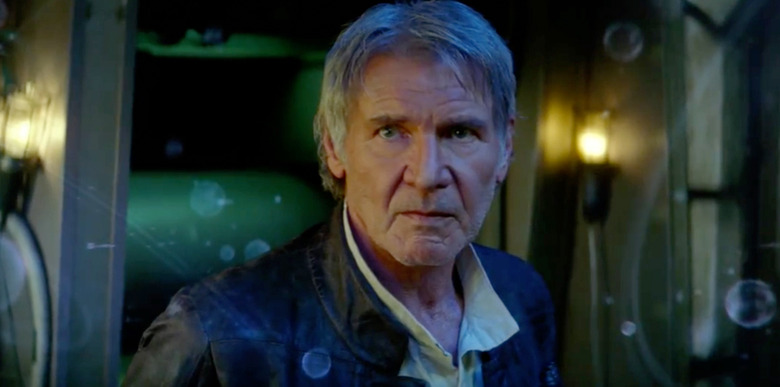 If you grew up worshipping at the twin altars of Indiana Jones and Han Solo, now's a pretty great time to be alive. Not only did Star Wars: The Force Awakens bring back everyone's favorite scruffy-looking nerf herder, we have a younger version of the character to look forward to in 2018. Meanwhile, Disney's also just announced an Indiana Jones 5, due out in 2019.
So what does the man behind both iconic characters think of these recent developments? Harrison Ford has been making the talk show rounds recently to promote the home video release of Star Wars: The Force Awakens, and he's spoken up about why he's excited for Indiana Jones 5 and what advice he has for the next Han Solo. 
During an appearance on Jimmy Kimmel Live!, Ford did not hold back his enthusiasm for Indiana Jones 5. "I'll be ready. I'm excited about it," he said. When Jimmy Kimmel asked if the filmmakers had come up with an idea that appealed to Ford, he eagerly agreed — but he wasn't referring to the script, which he hasn't read. "I'm talking about the contract!" he joked.
Ford then got a little more serious, explaining that what he's excited for "the opportunity to work with Steven [Spielberg] again on this character... the chance to revisit this character, which has brought pleasure to so many people — not to mention me." He added, "It's great fun to play this character, it's great fun to work with Steven, I'm looking forward to it." You can watch the relevant clip below.
That conversation followed an earlier one, also on Kimmel, where Ford discussed Han Solo's heartbreaking fate. "I argued for 30 years for this to happen, and finally I wore 'em down," he said. However, he hinted that this doesn't necessarily mean we've seen the end of Han Solo. When Kimmel asked whether Han Solo might somehow continue to appear in the movies, Ford mimed locking up his lips and throwing away the key.
Ford also dropped by The Ellen DeGeneres Show this week, where Ellen DeGeneres pressed him for his thoughts on casting "the new Han Solo." "No. Not a new Han Solo," he corrected her, feigning distaste, "It's worse than that. It's a young Han Solo." Putting aside his joking disapproval of the project, Ford served up some tongue-in-cheek advice for whichever lucky young actor (out of literally thousands of hopefuls) scores the role:
Don't do it. First, you know, it seems like everything's going swimmingly, and you put in 25, 30 years, and then they just — they just let you go. And they show you the door: "We're done with you, thanks very much."
The Han Solo spinoff arrives in theaters May 25, 2018 — though there's a chance we'll see him first in this winter's Rogue One: A Star Wars Story. Indiana Jones 5 is dated for July 19, 2019.