'The Huntsman: Winter's War' Trailer: The Gritty 'Frozen' Reboot You Didn't Know You Wanted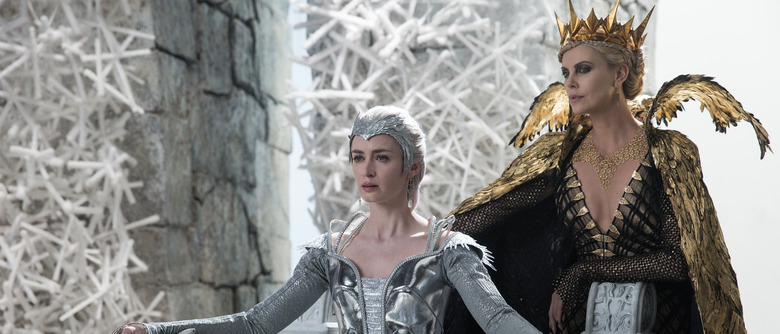 Sunday was the first official day of spring, so naturally Universal is celebrating with a trailer that's all about winter. The Huntsman: Winter's War takes Eric the Huntsman (Chris Hemsworth) and Ravenna (Charlize Theron) back before they met Snow White, to a time when he got caught up in the battle between Ravenna and her sister Freya (Emily Blunt).
As one of Freya's loyal protectors, Eric is forbidden to fall in love with a fellow Huntsman — but that rule becomes awfully difficult to follow when he sets eyes on Sara (Jessica Chastain). Watch the Huntsman: Winter's War trailer below.
The Huntsman: Winter's War Trailer
Hemsworth's Huntsman continues to feel superfluous in his own movie. Perhaps that's because The Huntsman: Winter's War feels like nothing so much as a gritty reboot of Frozen. That's not the worst thing – he's easily the least interesting character in this trailer, so it may be just as well he's shunted off to the sidelines. But it does make you wonder why, then, they bothered including him at all. If a Snow White and the Huntsman prequel can ditch Snow White, can't it get rid of the Huntsman as well?
On the flip side, Theron's scenery chewing was the best part of Snow White and the Huntsman and she gets to do much more of that here — though some of this footage looks like nothing so much as the outtakes from Theron's J'adore Dior commercials. And Blunt is unsurprisingly commanding as an ice princess, while Chastain gets to show off her action-hero chops a bit.
The Huntsman: Winter's War arrives April 22. Cedric Nicolas-Troyan directed.
Discover the story that came before Snow White in The Huntsman: Winter's War. Chris Hemsworth and Oscar® winner Charlize Theron return to their roles from Snow White and the Huntsman, joined by Emily Blunt and Jessica Chastain.
Theron stars as evil Queen Ravenna, who betrays her good sister Freya (Blunt) with an unforgivable act, freezing Freya's heart to love and unleashing in her an icy power she never knew she possessed. Retreating to a kingdom far to the north, Freya raises an army of Huntsmen as her protectors, with the only rule that no two of them should ever fall in love.
As a war for domination escalates between the two queens, the hero standing between them is Freya's most elite Huntsman, Eric (Hemsworth). Alongside fellow warrior Sara (Chastain)—the only woman who has ever captured his heart—Eric must help Freya vanquish her sister...or Ravenna's wickedness will rule for eternity.
Producer Joe Roth (Maleficent, Alice in Wonderland) once again leads the team in this breathtaking prequel in the legendary saga that is directed by Cedric Nicolas-Troyan. This spring, find out who will win the war between good and evil in the epic action-adventure The Huntsman: Winter's War.