'April And The Extraordinary World' Trailer: This Is A French Sci-Fi Talking Cat Adventure (And It's Good!)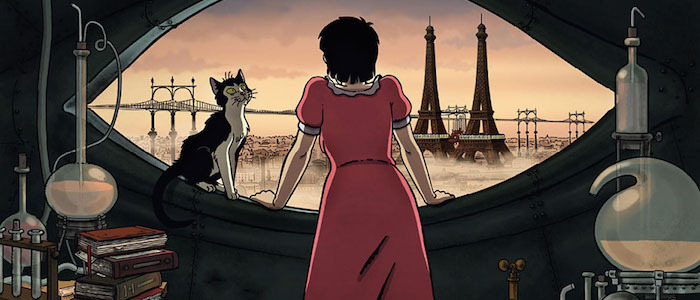 April and the Extraordinary World is an animated French film set in a grungy, alternate history steampunk version of Paris circa 1941. It follows a young, homeless scientist and her talking cat as they set out to find her missing parents and create a cure for death. Oh, and there's a gigantic conspiracy involving the abduction of the world's smartest people. It is, for lack of a more elegant phrase, a pretty strange movie. It is also charming and exciting and endlessly inventive.
And now, the first trailer for the English language version of the trailer has arrived and...well, let's just say that we've seen better movie trailers.
I saw April and the Extraordinary World at Fantastic Fest last year and was completely won over by what directors Christian Desmares and Franck Ekinci had pulled off. This is a fun movie, a pulpy, smart, family-friendly adventure that feels unlike anything being produced in Hollywood. I haven't read the Jacques Tardi graphic novel that served as source material for the film, but the end result feels like a refreshing mixture of The Adventures of Tintin and Studio Ghibli. The film is set in a genuinely unique science fiction world that is brimming with details and possibilities. The characters, especially Darwin the genetically modified talking cat, are delightful. It's just a wonderful little movie and a finely executed piece of science fiction.
But this trailer is bad. So watch it, but ignore it. The awkward pacing and stilted presentation of this preview doesn't do the final film justice. It does, however, give you a taste of the film's gorgeous animation, which looks like a comic book come to life.
The French version (which is what I saw at Fantastic Fest), features Marion Cotillard as April. The English-dubbed version loses her, but gains Paul Giamatti, Tony Hale, Susan Sarandon and J.K. Simmons. That's not a bad trade-off, but if you have the chance, you should probably watch the film in its native language. Honestly, that rule should apply to just about any foreign film, animated or not.
Here's the official synopsis for the film:
Paris, 1941. A family of scientists is on the brink of discovering a powerful longevity serum when all of a sudden a mysterious force abducts them, leaving their young daughter April behind. Ten years later, April lives alone with her cat, Darwin, and carries on her family's research in secret. But she soon finds herself at the center of a shadowy and far-reaching conspiracy, and on the run from government agents, bicycle-powered dirigibles and cyborg rat spies.
April and the Extraordinary World will open in select theaters on March 25, 2016 and roll out to other theaters throughout April. You can see if it will be playing near you by paying a visit to the film's official site.