Jane Campion's 'Top Of The Lake' Adds Gwendoline Christie And More For Season 2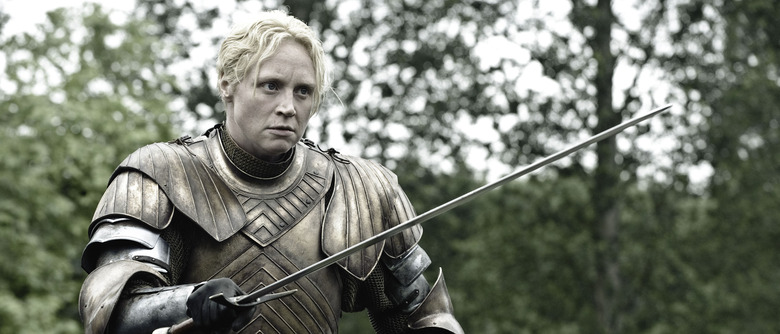 The first season of Jane Campion's Top of the Lake was a master class in tension and dread, a meticulously crafted mystery powered by pain and fury. Mad Men's Elisabeth Moss proved to be perfectly cast as the brittle detective at the heart of the action, trying to solve a puzzle in a hometown full of traumatic memories.
All of which means the second season has a pretty high bar to clear if it wants to live up to the first, let alone surpass it. But hiring Gwendoline Christie is probably a good first step. The Game of Thrones and Star Wars: The Force Awakens actress is set for a "major" role in the drama, and a bunch of new plot details have just been revealed to go along with that casting announcement. 
Top of the Lake's first season premiered in 2013, but the second has been slow to come together. Actually, until 2014, we didn't know there'd be a second season at all – Top of the Lake season 1 had been billed as a limited series — and it wasn't until last year we finally got word Moss would reprise her role as detective Robin Griffin. Campion co-wrote the new season of Top of the Lake with Gerard Lee, and will also direct with co-director Ariel Kleiman.
Here's the plot synopsis for season 2, per the press release:
'Top of the Lake' Season 2: China Girl is a crime mystery story that begins four years on from the explosive ending of Season 1. When the unidentified body of an Asian girl washes up on to Sydney's Bondi Beach, the case seems hopeless, until detective Robin Griffin discovers that China Girl didn't die alone.
Details on Christie's role are being kept under wraps, though it's described as "significant." Also joining the cast this season are David Dencik (The Girl With the Dragon Tattoo), Alice Englert (Jonathan Strange & Mr Norrell), and Ewen Leslie (The Daughter). We previously heard Nicole Kidman could be on board for season 2, but the statement doesn't mention her and it's unclear whether she's still involved.
Top of the Lake season 2 will premiere in 2017 — first in the U.K. on BBC Two, and then in the U.S. on SundanceTV. That gives you maybe a year to catch up on season 1, if you missed it the first time around.