'Fear The Walking Dead' Producers Talk Water Zombies, "Aggressive" Second Season [PaleyFest]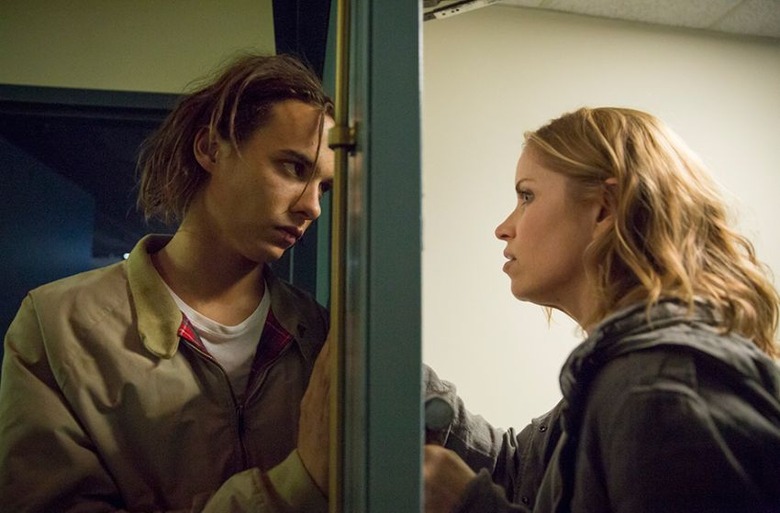 On the red carpet for PaleyFest's panel for Fear the Walking Dead, producers Dave Erickson and Gale Anne Hurd spoke to reporters about the upcoming second season. The prequel to The Walking Dead ended its six-episode first season last fall, with (spoiler alert!) the survivors in Los Angeles finding a boat to take them away from land and the hordes of infected people the rest of us know as walkers.
"Many, many fans of The Walking Dead said that they had the solution to the zombie apocalypse," Hurd told reporters. "They'd take a boat and go to sea. Well, you know what? They're going to find out whether that was really the answer or not. I think some of what they'll see will surprise them." 
That doesn't mean the show was inspired by fans, but Hurd is happy to finally answer this question. "It obviously evolved naturally but it just happens to fit with a lot of things that people on social media said they would do," she said. "So I think they'll connect with it in that way."
The second season of Fear the Walking Dead will have 16 episodes, so one imagines they will have to dock at some point. Erickson teased when we might see land again.
"It could be sooner than you think," Erickson said. "We will be on the boat for a considerable amount of time. A lot of our action will take place on the boat but because we're not alone on the water, because there are threats at sea as well, we're going to be forced to go back. It won't be every episode. It's not going to be a new port of call every episode, but we'll go to land sooner rather than later."
The biggest controversy in zombie history has been whether zombies can run or not. Now do we need to ask if they can swim? "I wouldn't say they so much swim but they don't drown," Hurd said. "The heavier ones will float. The skinnier ones will not float quite so much."
So we will see walkers get wet, and you might think the makeup would peel off in the water. In reality, underwater shooting could be less of a problem than the heat of Atlanta, Georgia, where The Walking Dead films.
"It's funny, we did tests very early on and given how humid it is in Georgia, the makeup was already designed to withstand a lot of moisture," Hurd said. "So it was a lot less surprising to them that it held up so beautifully than it was to the rest of us."
Only one part of the zombie makeup won't work underwater. "The only thing you can't do is the contact lenses," Erickson added. "You have to do that separately."
Fear has relocated to Baja Studios in Mexico to film its water sequences. The Baja crew is experienced at water photography – as is Hurd, having produced The Abyss.
"Because we're shooting at Baja Studios, a lot of the local crew, having worked on Titanic, Master and Commander and All Is Lost had been through all of that and had some tricks and solutions that I didn't even think about," Hurd said. "By putting the boat on a floating dock, being able to move it very quickly, really knowing in advance where we're going to need it so that we can incorporate it in our timeline for the shooting day, sufficient time to move it around and maybe go to a soundstage for a while and shoot something there while you're setting up for a really big shot in the tank."
The first season of Fear drew some criticism for being too slow of a burn. Erickson still stands by those episodes, but acknowledged the second season would pick up the pace.
"The show was purposely slower and that was just because it was new, it was early," he said. "We and Robert [Kirkman] wanted to explore what would the steps actually be? It's difficult to really wrap your brain around the fact that somebody's risen from the dead. It takes a little bit of time so I think that partly was why we went that way in season one. Now, everybody has a better understanding. There's not going to be anyone talking to zombies. Now we know that if you don't kill them, they'll kill you and we'd have to do that to survive."
Fear will still not match the pace of mothership Walking Dead, because the zombie epidemic has simply not progressed as far in this show. "I think we'll have episodes that are more contained and they're more about the interpersonal, but we get pretty aggressive," Erickson said. "We will not have a horde every episode but we'll get there."
As for the original The Walking Dead, all we could get was a tease about the long-expected arrival of Negan (Jeffrey Dean Morgan). "Negan is, not joining our merry band of survivors, but shall we say he's going to be a huge fly in the ointment," Hurd said. "It's going to be game changing."