David Rosenthal's 'Jacob's Ladder' Remake Will Star Michael Ealy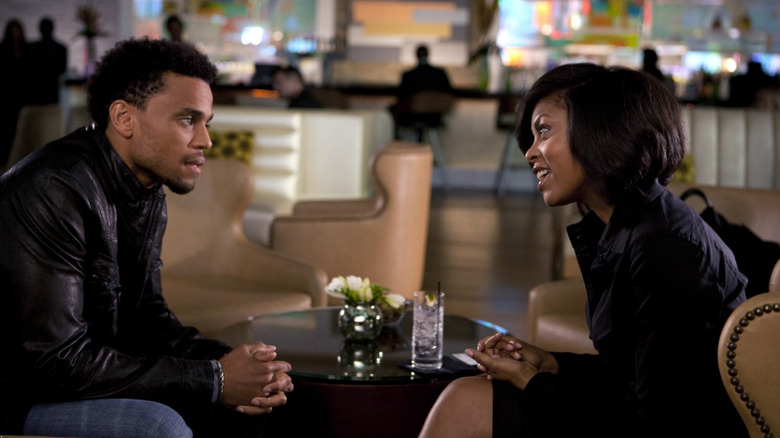 Jacob's Ladder recently turned 25 years old. Adrian Lyne's (Unfaithful) thriller didn't perform spectacularly at the box office, but like some of the director's other films, it's aged considerably well. Back in 2013, we heard about a Jacob's Ladder remake, which is finally moving forward with Michael Ealy (Almost Human) in the lead role.
Learn more about the project below.
A few years ago this remake was described as "something more akin to an homage." Producers Michael Gaeta and Alison Rosenzweig (who were behind the Fright Night remake) hired Jeff Buhler (Midnight Meat Train) to write the film, based on a previous draft by Jake Wade Wall (of the When a Stranger Calls remake). Variety reports LD Entertainment's remake of the psychological thriller is moving forward, with Buhler sharing credit with Sarah Thorp (The Bounty Hunter) on the script. Variety calls the remake a "reboot," which will be a "modern-day paranoid action thriller about two brothers."
Obviously, that's quite different from the original film's synopsis, as Jacob Singer (Tim Robbins) didn't have a brother and Lyne's picture was hardly an action movie. In the thriller, written by Bruce Joel Rubin and Lyne, Robbins starred in the titular role, playing a Vietnam veteran suffering from hallucinations. Sequences from the original, including the nightmarish party sequence, remain terrifying.
When the remake was announced, no director or star was attached, but the project will now be a bit of reunion: director David Rosenthal will collaborate with his star from The Perfect Guy, Michael Ealy. Critics panned that film last year, but it made close to $60 million at the box office. Rosenthal also directed A Single Shot, a nice and dirty crime movie, starring Sam Rockwell and Jeffrey Wright. That's a well acted, atmospheric thriller, so I wouldn't completely write this project off because of The Perfect Guy.
The idea behind the remake is to "contemporize the story with new situations and characters but still maintain a story that examines issues and poses existential questions." Considering they're taking this story in a more action-driven direction, which isn't terribly surprising, we probably shouldn't expect another emotional, often unsettling version of Jacob's Ladder. We already have that movie, so that's completely fine, but hopefully Rosenthal doesn't lose sight of the seriousness, the dramatic weight, or the emotional ending of Jacob's journey amongst whatever set pieces they have planned for this action-thriller.
Principal photography on Rosenthal's Jacob's Ladder remake is scheduled to begin this May.