'Veep' Season 5 Trailer: Selina's Back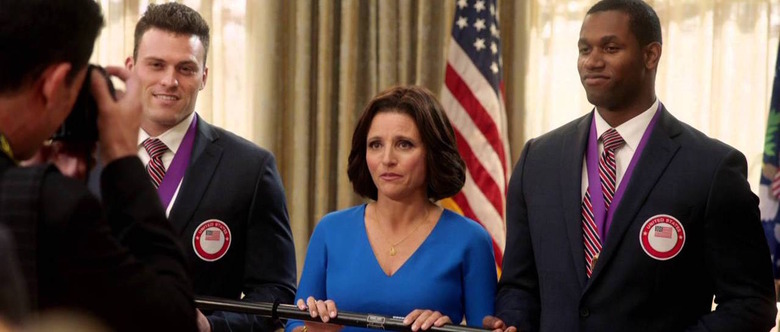 As we hurtle through what a lot of people believe to be the weirdest primary season ever, HBO's Veep has its work cut out for it. Namely, is it even possible for this show to out-crazy the stuff going on in real life? Based on the first Veep season 5 trailer, the answer is a solid "maybe" — but we can rest assured the insults on this show will continue to be the most profanely poetic ones heard anywhere on television.
Veep picks up with the fallout from that season 4 cliffhanger, with Selina Meyer (Julia Louis-Dreyfus) still struggling to hold on to power. Season 5 could be a huge turning point for Selina's political career, but it's a turning point for Veep too — this will be the first season without creator Armando Iannucci. Watch the Veep season 5 trailer after the jump.
That opening scene is Veep in a nutshell. Anyone looking for hope and salvation in politics is better off with Parks & Recreation reruns; this is a show about cynicism and incompetence. And that last quip from Ben (Kevin Dunn) is quintessentially Veep, too. Iannucci isn't the only person on the Veep writing staff who knows his way around an R-rated joke.
In addition to the usual woes caused by her hilariously incompetent staff, Selina will face a bunch of new hurdles including Chinese hackers, a financial disaster reminiscent of Greece ("the country not the musical," a bank bailout, and a new boy toy played by Mad Men's John Slattery. And all this, as the Veep season 5 trailer reminds you, in the middle of a tied election against Senator O'Brien (Friday Night Lights' Brad Leland).
Veep doesn't usually go for ripped-from-the-headlines storylines, so Selina's election year probably won't look too much like our own. But at a time when millions of Americans, of all political leanings, are deathly afraid for the future of this country, it might be nice to kick back and laugh at some political fuckups that don't send a chill down your spine.Veep season 5 premieres April 24 at 10:30 PM on HBO, right after Game of Thrones and Silicon Valley.