Jeremy Renner Is Down To Make A Hawkeye Netflix Series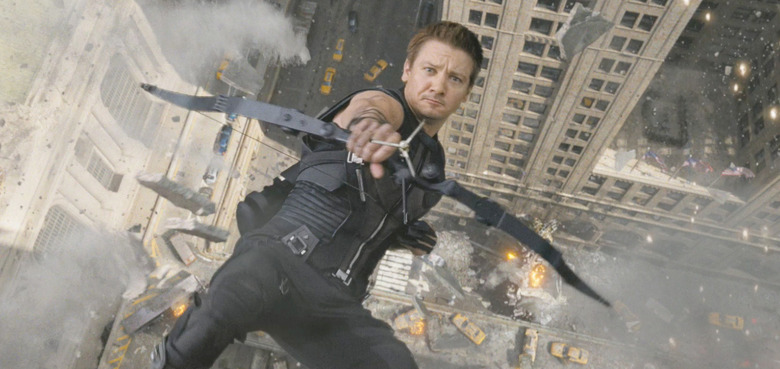 Ever since getting a taste of the history between Hawkeye (Jeremy Renner) and Black Widow (Scarlett Johansson) in The Avengers, fans have been hoping for a standalone movie following either or both of the former agents of S.H.I.E.L.D. for their own adventure. Previously, Jeremy Renner previously said that he wasn't really gunning for his own movie in the Marvel cinematic universe, but if the opportunity for his own Netflix series came along, he'd absolutely be down for that.
Speaking on a panel at the Silicon Valley Comic Con (via ComicBook.com), Jeremy Renner was asked whether he'd be interested in a Hawkeye Netflix series along the lines of Daredevil, and here's what the actor had to say:
"I think that's actually a really great model, if there's ever a way to explore the character, maybe it's in that world. These are things that are really not in my control, but I'd be open to it. I've really enjoyed getting to explore the character more recently. The Netflix model is where all the character drama goes to now, you're doing a superhero movie or a Netflix or HBO kind of model. So I'd be open to it. Not up to me, though."
So Jeremy Renner would love to explore Hawkeye in his own series, but he doesn't exactly have a say in whether or not it actually happens. However, there's a chance talks behind the scenes between Netflix and Marvel Studios have already taken place concerning something for Hawkeye or Black Widow in the future.
Last summer, a rumor about the future of television at Marvel Studios indicated that Netflix had a pipe dream of creating a limited series or Netflix movie following Hawkeye and/or Black Widow. There aren't necessarily any solid plans for this to happen, but at least we know it's something that has been thought about.
The only problem with doing a series about Hawkeye or Black Widow would be tying it into the larger Marvel cinematic universe. The two members of The Avengers have a key part in the big picture, and giving them their own series might prove to be difficult. That's the reason there aren't more overt ties between Agents of S.H.I.E.L.D. and the Marvel movies.
But in the case of Hawkeye and Black Widow, the script for The Avengers gave us the perfect detail that could serve as the subject for a limited series. In the midst of the big screen action, the two talk about some kind of mission they had in Budapest, and that would be great to see unfold in a Netflix series or movie. For his part, Renner said he would do a movie with Black Widow "in a second."
Would you like to see Hawkeye and/or Black Widow get their own Netflix series?