'All The Way' Trailer: Bryan Cranston Is Accidental President Lyndon B. Johnson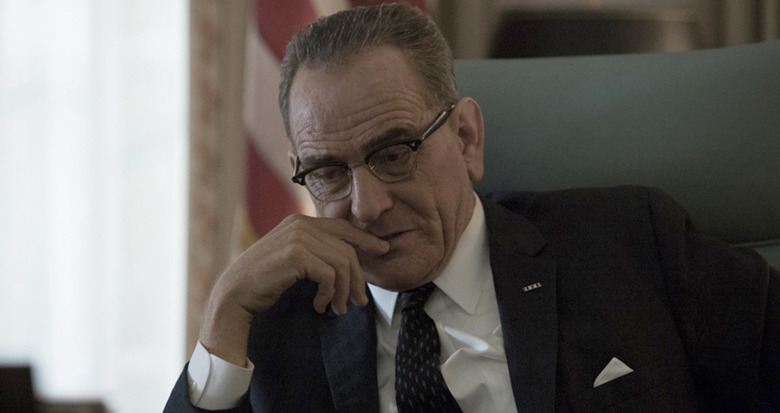 After portraying President Lyndon B. Johnson in the stage play All The Way, Emmy winner Bryan Cranston is reprising his Tony-winning performance for an HBO film adaptation of the same name. The first trailer for the film which chronicles the struggle of the accidental president, working as hard as he can to fill the empty presidential shoes left behind by the belovedJohn F. Kennedy.
It's 1964, and Lyndon B. Johnson must try to lift the country's spirits in the face of tragedy, racism, war and more. Now the first All The Way trailer shows just how astounding Bryan Cranston's performance as the 36th President of the United States of America.
Honestly, Bryan Cranston looks to deserve an Emmy just based on this trailer alone. This looks like a tour de force performance that deserves to be seen on the big screen instead of premiering on cable. It even looks like a performance that could eclipse his Oscar-nominated turn in Trumbo last year.
Speaking of which, All The Way reunites Cranston with Trumbo director Jay Roach, who previously praised the actor's work while speaking with People Magazine:
"Physically and emotionally Bryan completely channels LBJ. We just filmed him and Lady Bird in the Oval Office, after JFK's assassination. LBJ has arrived as the 'accidental President.' He's almost overwhelmed. In spiritual support, Lady Bird touches his cheek. We melted, like we went back in time and witnessed a private, heart-wrenching moment between these two great people."
Surrounding Cranston is quite the ensemble cast that includes Anthony Mackie (portraying Martin Luther King), Melissa Leo (Lady Bird Johnson), Bradley Whitford (Hubert Humphrey), Stephen Root (J. Edgar Hoover), Marque Richardson (Bob Moses), Aisha Hinds (Fanny Lou Hamer), Todd Weeks (Walter Jenkins), Mo McRae (Stokely Carmichael), Spencer Garrett (Walter Reuther) and Frank Langella (Senator Richard Russell).
This is bound to get nominated for a slew of Emmy awards later this year, but we still have to wait a couple months before it hits HBO on May 21 at 8pm ET/PT.
Bryan Cranston (Trumbo, "Breaking Bad") reprises his Tony-winning role in All The Way, a riveting behind-the-scenes look at President Lyndon B. Johnson's tumultuous first year in office after the assassination of John F. Kennedy. Staking his presidency on what would be an historic, unprecedented Civil Rights Act, Johnson finds himself caught between the moral imperative of Dr. Martin Luther King, Jr. and the expectations of the southern Democratic Party leaders who brought Johnson to power.