'Maze Runner: The Death Cure' Production Halted After Dylan O'Brien Injured On Set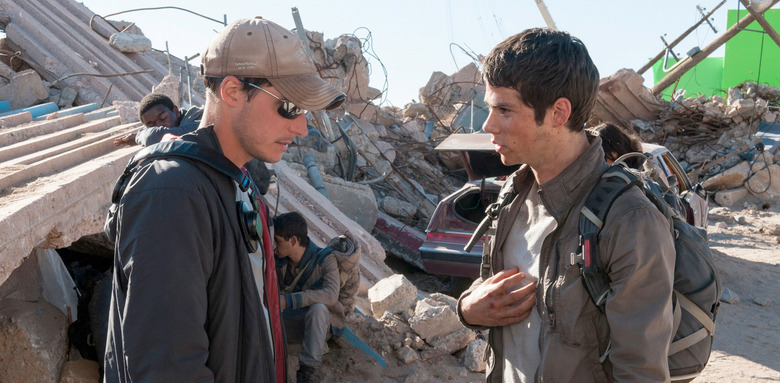 Bad news comes from the set of The Maze Runner: The Death Cure today as franchise star Dylan O'Brien was injured during production on the sequel bring directed by Wes Ball in British Columbia. Production has been halted after O'Brien was taken to the hospital to be treated, but there are conflicting reports as to the extent of his injuries and how they came to be.
Find out more about the Dylan O'Brien injury on The Maze Runner set after the jump.
TMZ was first to report news of Dylan O'Brien getting injured, saying that the actor was run over by a car during a stunt scene that went wrong. The gossip site said O'Brien was severely injured, saying that he had several broken bones. However, an official statement says that O'Brien was injured yesterday during production without citing specific details:
"Dylan O'Brien was injured yesterday while filming Maze Runner: The Death Cure in Vancouver, Canada. He was immediately transferred to a local hospital for observation and treatment. Production on the film will be shut down while he recovers. Our thoughts go out to Dylan for a full and speedy recovery."
20th Century Fox doesn't mention any "severe" injury or broken bones, but the studio probably wouldn't want to be forthcoming about those kind of details concerning the private health matters of one of their actors.
However, Deadline seems to have heard more specifics on the injury as they say "O'Brien apparently fell off the back of a set that was supposed to look like the back of a train" and that's how he fractured either his cheekbone or orbital socket. The details on that front are still uncertain. The only thing certain is that the film is on hiatus while O'Brien recovers.
For anyone worried about the well-being of O'Brien, The Maze Runner writer James Dashner posted a couple updates to Twitter to put fans at ease:
I just want to let everyone know that yes, Dylan was hurt, but that he's going to be okay. Not life threatening in any way.

— James Dashner (@jamesdashner) March 18, 2016
Production is postponed but certainly not cancelled. All that matters now is that Dylan recovers. We love you, Dylan!!!

— James Dashner (@jamesdashner) March 18, 2016
Just because the injury isn't life-threatening doesn't mean it's not bad news. Surely, O'Brien would rather be back at work rather than getting observed and recovering in a hospital. But we're just happy to hear that O'Brien is all right and hope he will be back at work soon.
The Maze Runner: The Death Cure had previously been set for a February 17, 2017 release, but it's not clear if that date will have to be delayed after this setback. As soon as we get more details on the extent of the production delay, we'll let you know.