'Batman V Superman: Dawn Of Justice' R-Rated Cut Is 30 Minutes Longer; Sequences Shot On 16mm & GoPro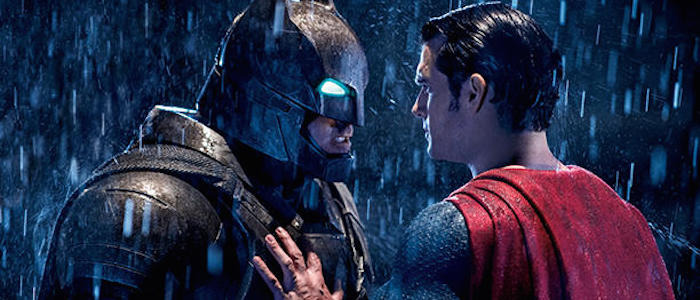 Batman v Superman: Dawn of Justice is only six days away. After all the trailers and TV spots, we'll finally get to see whether Zack Snyder's superhero picture delivers the goods. The film screened for an army of junket press this past week, but all reactions and reviews are embargoed until Tuesday.
The film we're seeing next weekend isn't the only version Warner Bros. is releasing, as an extended, R-rated edition of the movie will later hit DVD and Blu-Ray, which may or may not feature a sequence shot on 16mm.
Learn more about what to expect from the Batman v Superman R-rated cut below (minor spoilers ahead).
For starters, we know Jena Malone's mystery role will not be reveled in the theatrical cut. It was rumored Malone was playing Robin or Batgirl, but Zack Snyder firmly denied that report. Malone's role, for whatever reason, got cut from the film:
There's a couple, like, Ahman Green, the running back from the Green Bay Packers, he's in it. And C.T. Fletcher is like this bodybuilder muscle-guru from Compton, this awesome guy. He's amazing, and he's in it. And then there's just a lot of these Easter Eggs in the Director's Cut that I think are gonna be fun for everyone.
Snyder added there's "one giant one that I won't tell you about yet that speaks to what's gonna go on in the greater Justice League universe." Besides teasing future installments in the DC Cinematic Universe and focusing more on side characters, the Batman v Superman ultimate edition will also be R-rated.
Some fans speculated the R-rated cut was made because of Deadpool's success, but that would've been impossible. In an interview with The Hollywood Reporter, Snyder and producer Debra Snyder expanded on what to expect from the ultimate cut:
What was the mindset behind the film being PG-13 in theaters but R-rated on DVD?
DEB: Online, everyone's like, "Oh, they're doing an R-rated in reaction to Deadpool," and you're like (laughing), "We didn't just shoot it last week, and we also didn't edit it last week."
ZACK: The why of that is [the DVD version] is a half-hour longer, and some of that additional material is some of the stuff we took out for the rating. I was like, "Cool, I can put it back in for the director's cut." There was nothing by design. This was the material I just put back in, and then when [the MPAA] looked at it again, they were like, "Oh, now the movie's rated R." And, by the way, it's not a hard R. There's no nudity. There's a little bit of violence. It just tips the scale.
I've heard quite a bit of the cut footage takes place in the last half of the film. Considering how many characters Snyder is juggling and how much Dawn of Justice has to set up, it wasn't surprising to learn he had a much longer version of the movie. Some of Snyder's director's cuts, like Sucker Punch and Watchmen, certainly benefit from the extra breathing room. Next week we'll see whether Batman v Superman: Dawn of Justice could've used some of those deleted scenes to tell its story, but let's keep our fingers crossed the film works just fine without them.
The junket for the film was today. Peter already ran a story from the press conference, discussing the creation of the DC Cinematic Universe. Another cool little piece of info that came out of today's junket? Sequences of the comic book movie were shot on 16mm and GoPro. Snyder told Fox 5 DC's Kevin McCarthy that around 99% of the movie was shot on anamorphic 35mm, but in addition to the sequences shot in 70mm for IMAX, one GoPro shot made it into finished picture.
The discussion begins around the 7:30 mark:
Snyder later clarified that the scene shot on 16mm didn't make the final cut. As for the sequences shot using IMAX cameras, they should be reason enough to spend a few extra dollars on a ticket next weekend: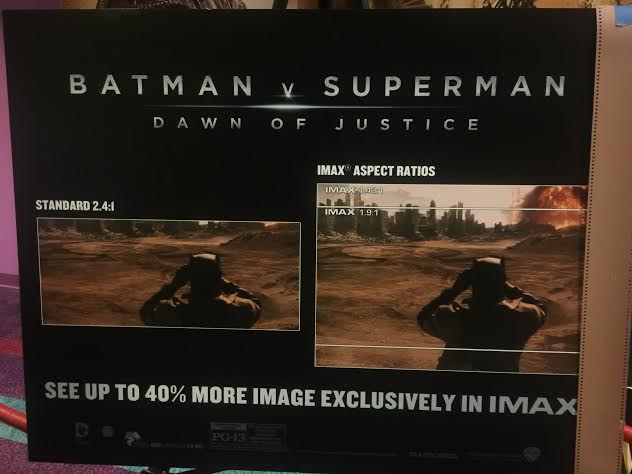 Batman v Superman: Dawn of Justice opens in theaters March 25th.