'Luke Cage' Teaser: Meet Marvel's Next Leading Superhero, Again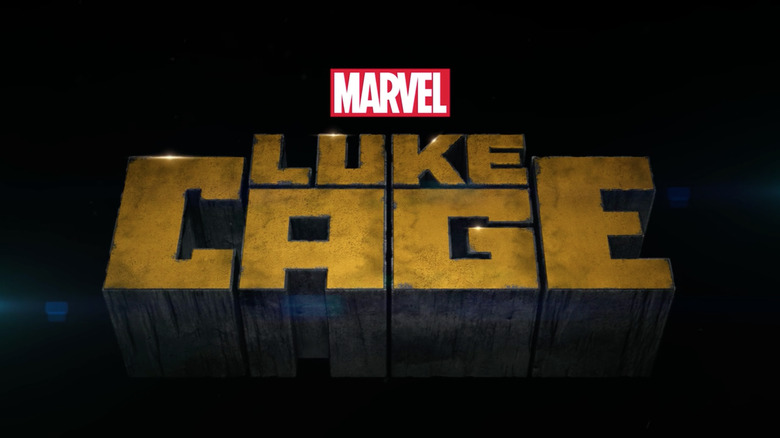 It's now been about 12 hours since Daredevil season 2 hit Netflix, which means it's unlikely most of you have made it to the end at this point. Those who have, however, have found a shiny little present waiting for them at the end of Matt Murdock's grueling journey: a teaser trailer for Netflix's next Marvel series, Luke Cage. The clip does not contain any Daredevil season 2 spoilers whatsoever, so you can proceed like a man without fear even if you've yet to begin the new episodes. 
The Luke Cage teaser isn't currently embeddable, but if you have a Netflix account it's a cinch to watch: just click here and you'll be taken directly to the video. Luke Cage (Mike Colter) strides into a boxing gym, where a group of henchmen are waiting for him with guns. Luke begins, "I guess you guys haven't heard about me," and the baddies start shooting, basically destroying the place.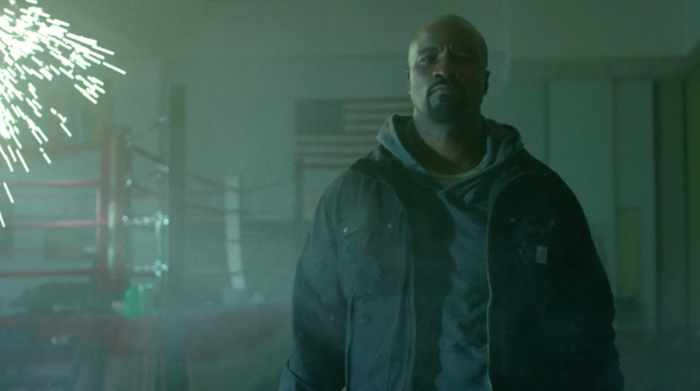 But as we all remember from Jessica Jones, Luke's skin is indestructible, so he just stands there unfazed — to the amazement and alarm of the shooters. Unfortunately, while Luke himself is indestructible, his clothes are not. "I'm about sick of always having to buy new clothes," he quips before one of the guys goes flying through a glass window, presumably after being thrown by Cage. Then the Luke Cage logo (which you can see above) pops up to the tune of Nas' "Made You Look."
It's a badass introduction for a badass character, and suggests Luke will be every bit as formidable as his future Defenders teammates Jessica Jones and Daredevil. Not that that should come as a surprise — he's already made a huge impression on MCU fans with his supporting role in the former's headlining series. Luke Cage will pick up with its title character in Harlem as he tries to rebuild his life. Which is just as well. Between Jessica and Matt and all their friends and foes, Hell's Kitchen is starting to get awfully crowded.
The first Luke Cage teaser clip comes hot on the heels of the first Iron Fist teaser image released yesterday. It looks like Netflix's own little corner of the Marvel Cinematic Universe is developing nicely, though there's no word yet on when Iron Fist will premiere or when the four leading heroes will finally come together for the Defenders miniseries.
Also starring in Luke Cage will be Mahershala Ali as Cornell Stokes a.k.a. Cottonmouth, Alfre Woodard as Mariah Dillard, Simone Missick as Misty Knight, Theo Rossi as Shades, and Frank Whaley as Rafael Scarfe. Cheo Hodari Coker serves as showrunner. Luke Cage hits Netflix September 30, as announced by Colter last week.