Miles Teller Confirms He Auditioned For Han Solo, Discusses What Went Wrong With 'Fantastic Four'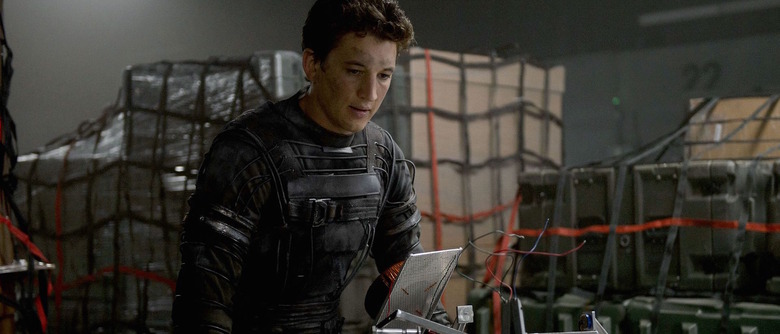 Fantastic Four took a beating from critics, comic book fans, and most audiences last summer. Before Josh Trank's butchered film even opened in theaters, 20th Century Fox prematurely scheduled a sequel for next summer, a plan that has since been nixed. Leading up to Fantastic Four's release there were plenty of rumors regarding the troubled production, but we've heard little about the whole debacle since then.
Below, actor Miles Teller discusses Fantastic Four and the experience of auditioning for Han Solo.
The principal cast of Fantastic Four has been doing just fine since its release: Michael B. Jordan scored big with Creed; Miles Teller has Todd Phillips' untitled dark comedy and Thank You For Sharing coming up; and Toby Kebbell is on a roll with Warcraft, A Monster Calls, and Kong: Skull Island. There's only so much a cast even this good can do with a script like Fantastic Four's, so obviously they can't be blamed.
On the happysadconfused podcast, Teller said the script was constantly being reworked. That's nothing new for big-budget filmmaking, but the Fantastic Four's reworked story turned into a total mess in the last half of the film:
I think it was Clooney who said you can make a bad movie out of a good script, you can't make a good movie out of a bad script, and that's very true. If they're telling you maybe your part's not as big and they say, 'Oh you're gonna be bigger in the sequel' or 'Oh we're gonna rewrite' and 'Yeah we're gonna take in all these notes,' if you're in a position where you can say hold off I'm not signing off on this dotted line until this script is exactly where you want it, then you're in a very fortunate position. Because I know actors that have been in literally Oscar-winning performances that told me that script was a struggle every day to get it to a place that [they] wanted it, and [they] were always fighting for the best version of it
Getting a little bit more candid about the production, Teller doesn't play the blame game, but instead takes the opportunity to discuss one of the biggest disappointments with the film:
People think that when you make something like a Fantastic Four that doesn't do well, people think 'Oh you phoned it in' and it couldn't be more untrue. You work harder on the bad films, or the films that turn out maybe not the way you intended, because something's not working. And I thought it was kind of unjustly critiqued that way; there are even bigger bombs if you're looking at how much money went into the production and what they reaped back. But I think it's unfortunate a movie like that becomes a scarlet letter on a resume when so many talented people worked really hard and maybe a handful of people took it in a negative direction. But so many people worked really hard on that that are so talented.
With the director of Chronicle, that cast, and the long list of talent involved, Fantastic Four should've been a whole lot better than it was. It's doubtful many moviegoers want a Fantastic Four 2, but it's unfortunate Trank and this cast won't get a second chance. This franchise, sadly, will remain in the mud for a little while longer.
Another franchise Teller's name was connected to? Star Wars. The actor was rumored to be in the running to play Han Solo, in the untitled Han Solo film directed by Phil Lord and Chris Miller (The Lego Movie). Here's what Teller had to say about auditioning for the role:
I had never even seen any of the original Star Wars movies until maybe a month or a couple weeks before my first audition because I was like, 'I should check this out' [Laughs]. It holds up. I just love Harrison Ford. I think that's a great character. I love his brand, I mean so many guys would've played that part so wrong and he has humor at the right times. Harrison Ford is a very big actor, when you see the facial expressions and the things he does he goes big, but he's just always the coolest guy in the room and he's got all of those great qualities.
According to a report from a few days ago, Jack Reynor (Macbeth), Taron Egerton (Kingsman: The Secret Service), and Alden Ehrenreich (Hail, Caesar!) are currently the top choices for Harrison Ford's old role. Teller might not to get to play Han Solo — or Reed Richards again — but the Whiplash star has plenty of enticing projects coming up. The failure of the Fantastic Four doesn't seem to have slowed him down.