'The Little Prince' Will Go Straight To Netflix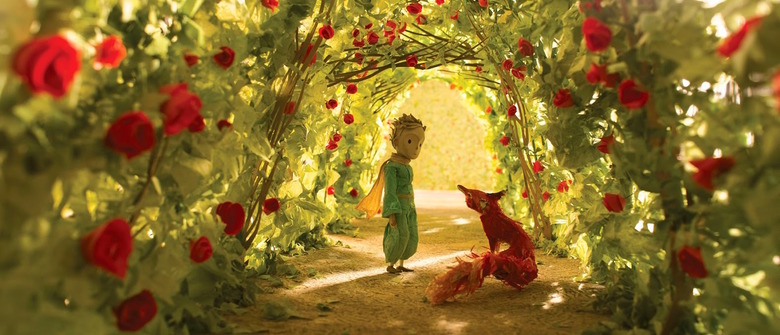 Had everything gone according to plan, we'd be taking breaks from our Daredevil binges this weekend to bask in the radiant loveliness of The Little Prince, Mark Osbourne's animated adaptation of Antoine de Saint-Exupéry's classic. But with just days to go before the March 18 theatrical release date, Paramount Pictures dropped The Little Prince from its slate for still-mysterious reasons.
Fortunately, in what's become a familiar pattern for cast-off shows and movies, Netflix has come charging in on its white horse to save the day. The company has scooped up domestic distribution rights for the animated fantasy, which first premiered at Cannes last year. 
Now that Netflix has picked up The Little Prince, Deadline reports it's expected to debut on the service sometime this year, although an exact release date has not been announced. That's the good news. The bad news is that as far as we know, Netflix does not have any plans to give The Little Prince a theatrical rollout. Though maybe that won't be such a bad thing for families with small kids who find it a hassle to trek to the theater anyway.
It remains unclear why Paramount Pictures dropped out. On the face of it, The Little Prince doesn't seem like a tough sell. It's based on a well known property with millions of adoring fans in the U.S.; it's got a top-notch voice cast including Jeff Bridges, Rachel McAdams, and Paul Rudd; and it comes from a director whose last feature (Kung Fu Panda, which he co-directed with John Stevenson) was a smash hit. It even has a wave of critical and commercial success to back it up — The Little Prince won the César Award for Best Animated Film last month and has already grossed $88 million worldwide.
The Little Prince employs a combination of 3D computer animation and stop-motion to bring the book to life. The familiar story is woven into a brand-new framing device about a little girl (voiced by Mackenzie Foy) whose high-strung mother (McAdams) pushes her to achieve. But when the girl befriends an old aviator (Bridges) who lives next door, he helps her rediscover a sense of whimsy and wonder and creativity. Check out the previously released trailer below: