POTD: Kevin Smith Teases Possible Jay & Silent Bob Cameo In 'The Flash' TV Series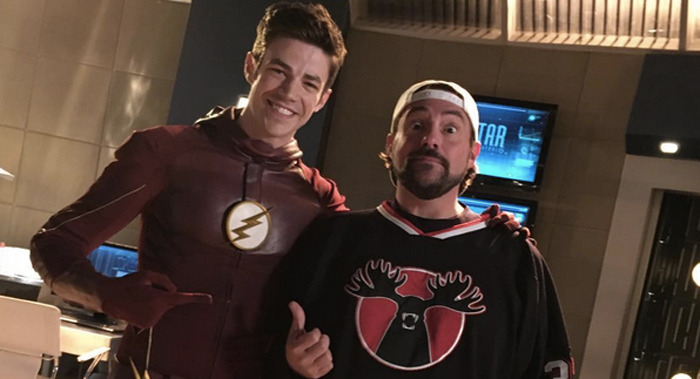 If you follow writer and director Kevin Smith on Instagram, then you probably already know that he's currently working on an episode of The CW comic book series The Flash. If you don't follow the filmmaker on Instagram, and you didn't read our post about this news back in January, you might have just learned something.
Nowadays, if you're not a Kevin Smith fan, you probably don't go out of your way to watch his movies. But if you are a Kevin Smith fan, even if you don't watch The Flash, you may have a reason to tune in to the episode that he's directing. It's not clear, but in one of the pictures from the set of the DC Comics series, Kevin Smith seems to tease a cameo from his signature characters, Jay & Silent Bob.
Get the details on the potential Jay and Silent Bob cameo in The Flash after the jump.
Here's the photo in question that Kevin Smith posted to his Instagram:
Went for some coffee at #ccjitters and found @jayandsilentbob loitering in front of the store. Yesterday was a productive Day 2 on the episode of #TheFlash that I'm "directing", with the cast, crew & I shooting four different scenes in the Cortex and Medical Bay at #StarLabs! I call it "directing" because neither cast nor crew need my guidance here to make something great. We shot some big little scenes yesterday that will break your heart and speed-force it back together again in that way only #TheFlash can. I love this show, so seeing how it really happens behind the scenes has been nothing short of thrilling. We start Day 3 of 8 in a couple of hours... #KevinSmith #jaymewes #centralcity #vancouver #jayandsilentbob #runbarryrun #funbarryfun
For those who don't know, CC Jitters is a signature coffee shop in Central City, the setting of The Flash. And the photo has both Kevin Smith and his longtime friend and on-screen hetero-lifemate Jason Mewes standing in front of it. However, this is not necessarily confirmation that the two characters will appear in the series. Mewes frequently hangs out with Smith and stops by the set of his projects without having any real involvement, and that could easily have happened with The Flash.
Unfortunately, we probably won't find out until this episode airs. At this time, we have no idea when this episode will air, but it should hit The CW sometime in April or May. The title is being kept under wraps, but it's being scripted by Thor writer Zach Stentz. We'll let you know if we get any confirmation on this possible cameo.
On a side note, that hockey jersey that Kevin Smith is wearing seems to be a promotion for his forthcoming movie Moose Jaws, which the director may or may not have spoiled during an appearance at the Sundance Film Festival.